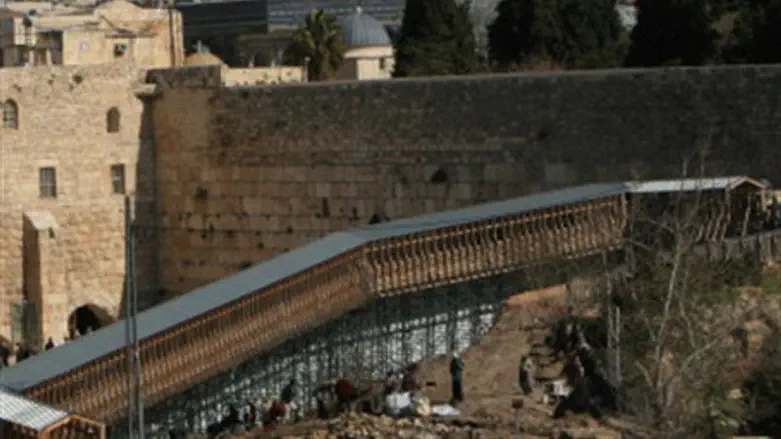 Mughrabi (Rambam) Bridge
Israel news photo: Flash 90
Jerusalem's Deputy Mayor, David Hadari, dismissed on Tuesday the rejection by the Waqf (Department of Islamic Endowments in Jerusalem) of an opinion by Jerusalem's city engineer that the Mughrabi Gate Bridge, which links the Western Wall Plaza to the Temple Mount, be demolished.
Hadari told Arutz Sheva that the bridge must be demolished because it is unstable and, as a result, unsafe to the public.
"The Jerusalem municipality must carry out the Israeli law without fear, and especially in sensitive places," he stressed.
He added that the demolition must be performed since the area in question is under Israeli sovereignty. "Israeli law is in effect on the Temple Mount, so if the city engineer says the bridge is dangerous, we have to follow his orders and demolish it."
Earlier on Tuesday, Jerusalem city engineer Shlomo Eshkol said that the bridge to the Mughrabi Gate, also called the Rambam Gate, was structurally unsound, posed a risk to human life, and should be dismantled within 30 days.
Eshkol said in his decision that the bridge, constructed from wood, should be replaced with a structure designed by a competent engineer and made of non-combustible materials.
The Waqf insists the final decision in the matter is theirs, as they regard the Temple Mount as a Muslim sanctuary under their sole authority. They claim that no one else has a right to interfere or monitor their affairs. They deny Jewish connections to the Mount.
At the end of the Six Day War, then Defense Minister Moshe Dayan, in what some saw as a peace seeking gesture and others attribute to his known lack of feeling for traditional Judaism, allowed the Waqf to continue its authority on the Mount and removed the Israeli flag that had proudly been flown from the Dome of the Rock.
Hadari said, however, that he is unfazed by threats by the Waqf and neighboring Arab countries, who have warned in the past that a demolition of the bridge would lead to a third intifada.
"Even though it is a sensitive area, we must destroy the bridge," he said. "Can we afford that one day, G-d forbid, police, soldiers or citizens would be injured when the bridge collapses? We must be concerned about the safety of Israel's citizens. If the Waqf and the Arab countries don't like the fact that we are daring to approach their holy place, it does not really matter."
"This area is ours, the Temple Mount is in our hands, and we will act in accordance with Israeli law," he concluded.