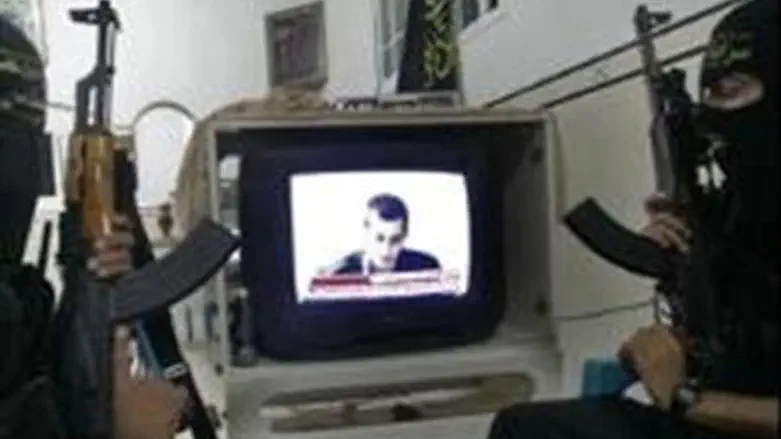 Shalit 2009 tape release by Hamas
Israel news photo: Flash 90
The "Free Gaza" movement alleges that Gaza terrorists "captured" and did not "kidnap" Shalit, freed last week in exchange for 1,027 terrorists.
"Soldiers are captured; civilians are kidnapped,' Free Gaza spokeswomen told Arutz Sheva. She said her definitions are based on international law.
Hamas, Army of Islam and Popular Resistance Committees terrorists took Shalit into captivity, kept him hidden and refused to honor the Geneva Convention that requires captors and kidnappers to allow Red Cross visits and communication with families.
The semantics underline the difficulty in dialogue between Israel and pro-Arab groups. During a phone interview with Berlin, an American citizen now living in France, she used the word "prisoners" and not "terrorists," called Israel an "occupier" and defined Hamas and Palestinian Authority attacks as "resistance."
"You have thousands of Palestinians – some with no charges – in jail, most of them for throwing stones," Berlin charged. "They are in jail for resisting just like Jews in the Warsaw Ghetto."
Asked if she justified kidnapping, or "capturing" soldiers, the spokeswoman did not categorically back the move but justified it by stating, "Capturing soldiers is a valid tactic, but I am not in the military. Your (Israel's) military has captured Palestinians."
Concerning the freedom of Shalit and 1,027 terrorists and security prisoners, Berlin commented, "It was great day for the families of the Palestinians and Shalit. I am a mother and can understand what it would be like is my son were captured because he was a soldier or kidnapped as a civilian."
The Free Gaza movement has launched several attempts to break Israel's maritime embargo aimed at preventing Hamas from smuggling more advanced weapons and terrorists into Gaza. She told Arutz Sheva that no more attempts would be made for at least two months in order not to interfere with the later stage of the Shalit deal in which more terrorists and prisoners will be freed.
Afterwards, "We will make an announcement when we have something to announce," she said.