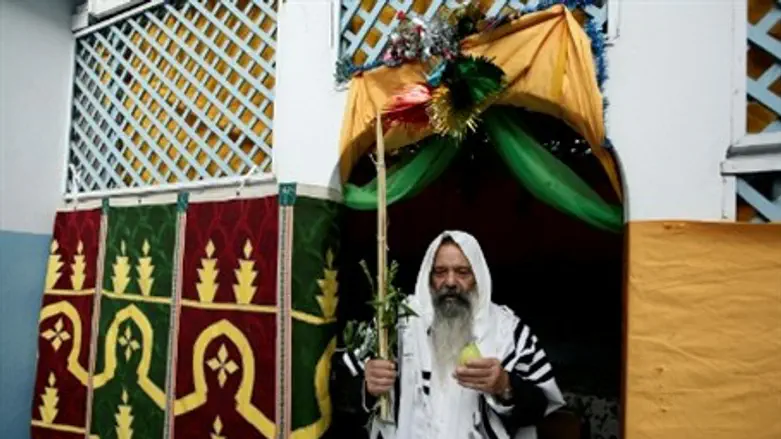 Casablanca Sukkah
Israel news photo: Flash 90
Thousands of people are expected to attend the first Sukkot World Festival in Netanya Sunday through Tuesday. The festival, coordinated by the Ministry of Public Diplomacy and Diaspora Affairs, the city of Netanya and the Beit HaTfutsot Diaspora Museum in Tel Aviv is designed to introduce participants to how the Jewish holiday of Sukkot is celebrated all across the globe.
More than 20 countries are hosting traditional booths and displaying their own styles of celebrating the holiday of Sukkot, all of them based on the common tradition of living in temporary structures during the week-long holiday.
"It is very important for Israeli Jews to appreciate the diversity which exists within the communities beyond Israel's shores," said Minister of Public and Diaspora Affairs Yuli Edelstein. "Events like these help strengthen the bond with the Diaspora and enhance mutual Jewish identity and pride between our community and fellow Jews across the globe."
The festival is being held at the Shlulit Park in Netanya, and the Ministry pavilion features a visual presentation on the number of Jews around the world. Visitors are able to send greetings for the New Year to Jews around the world via touch screens. A special daily quiz carries a raffle prize of IPAD2 devices.
People also can upload their own family trees by entering details about their family histories to the Diaspora Museum's Integrated Database and be eligible to win two tickets to their country of origin.
Fifty computer stations, sponsored by My Heritage for family roots research, will also include a special "You are part of the story" Sukkah in which visitors can enter their personal details to be part of a large communal Star of David mosaic. The Festival also includes children's activities.
Netanya also is hosting a Mosaic Festival and Guitar Gems Festival. Entrance is free.
Festival producer Neta Amitai told Arutz Sheva, "There are many festivals throughout Israel during Sukkot. I think that this is one of the only festivals that has a Jewish connection and involves Jews from all over the world." 
The Diaspora Museum also is presenting a part of its A-Ba-Ga-Da exhibition, which brings to life the essence of the Hebrew language and engages all audiences, especially families with young children, using cutting edge contemporary museum media.