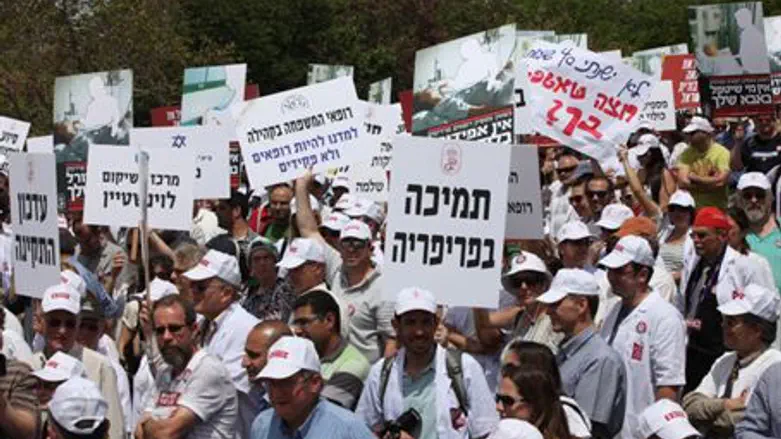 Doctors protest outside of the Knesset
Arutz Sheva: Flash 90
Israel's National Labor Court on Wednesday ordered hundreds of medical residents who resigned en masse earlier this week to return to work immediately.
Court president Judge Nili Arad accepted the state's petition to annul the resident's resignation letters on the grounds the resignations were organized and collective in nature and thus prohibited.
Previously Arad had asked residents to delay their resignations, which she recommended occur in a gradual manner rather than all at once to enable the system to absorb the losses while bringing emerging classes up to speed.
But the residents refused and Arad's order comes on the heels of some 470 residents refusing to show up for work on Tuesday - the second day of such no shows at several central hospitals.
The Rambam and Haifa medical centers were reportedly unable to meet patient needs amid the walk-off.
Other central region medical centers were able to meet patient's needs due to the selfless work of medical specialists who stepped in to fill the gap, and the transfer of patients to hospitals in the periphery, where walk-offs have not taken place.
The Finance Ministry announced a special team of negotiators will remain on the job through the Sukkot holiday to try to reach an agreement with the residents.
Residents say they have no interest in negotiations that have nothing to do with their complaints.
On Tuesday the spiritual advisor for the Shas movement, Rabbi Ovadia Yosef, implored residents to return to work saying "lives depended on it."
Rabbi Yosef also called on the government to improve residents' working conditions and salaries.