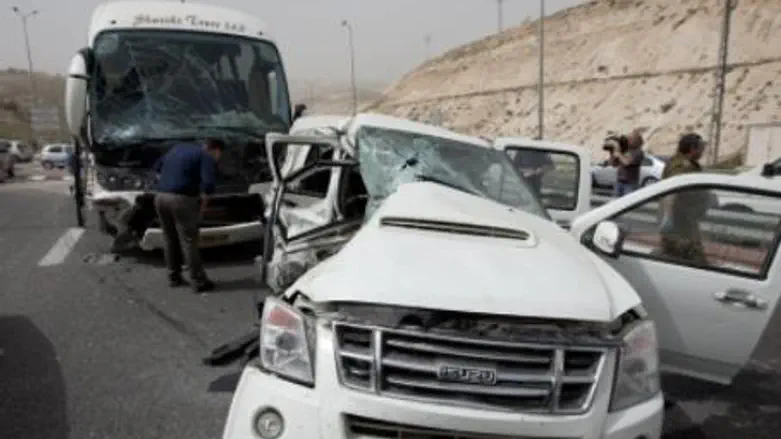 Car Accident (illustrative)
Israel news photo: Flash 90
The Knesset's Constitution and Law Committee has approved a proposal to impose harsher punishments on those convicted of hitting a person while driving and then leaving the scene.

The law, proposed by MKs Zev Bielski (Kadima) and Moshe Matalon (Yisrael Beiteinu) would double the maximum punishment for leaving the scene of an accident from seven years to 14.

It would also impose a punishment on passengers who fail to report the accident. Those convicted of failure to report would be punished with half the prison sentence given the driver.

"Today's session was an important step toward doing justice with the victims of 'hit and run' accidents," MK Bielski said. "The abandonment of an injured person, and leaving without getting help for them, is a phenomenon that must be destroyed at the roots.

"Every driver who gets on the road should know that their number one responsibility is to get help, which sometimes makes the difference between life and death," he added.

The law follows two high-profile cases involving hit and run crimes. In one, a man visiting Israel from France hit young Israeli woman Lee Zeitouni in Tel Aviv, killing her. He has since fled the country.

In the second, Tal Mor was convicted of hitting and killing Shneor Cheshin while driving under the influence of drugs and alcohol. Cheshin, the son of former Supreme Court justice Michael Cheshin, was riding his bike when he was hit.