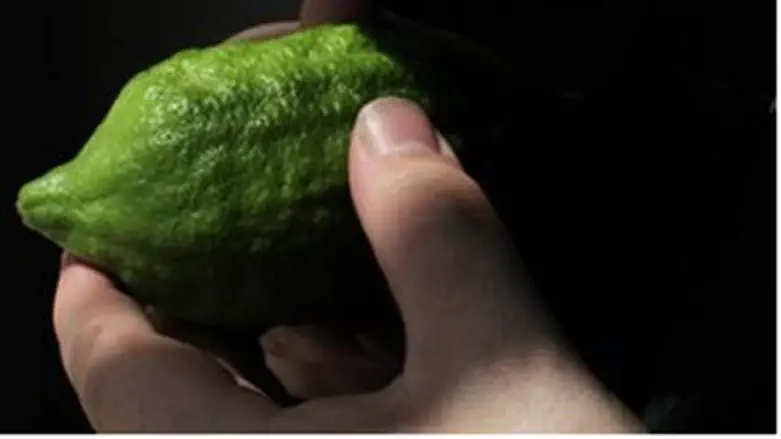 Etrog (citron)
Israel news photo: INN
A French national has been arrested trying to enter the country with fragrant contraband, it was announced Monday.
The smuggler arrived Sunday at Ben Gurion International Airport on a flight from Paris with two suitcases full of etrogim (citrons). Officials said the man tried to pass through the airport without declaring the fruit to customs authorities.
The man said he planned to sell the 228 "top quality" etrogim at a fair that featured products for the upcoming Jewish holiday of Sukkot, which begins a week from Wednesday. The fruit, weighing a total of 58 kilos (128 lbs) was confiscated and turned over to the Agriculture Ministry.
Last year more than 300 etrogs were seized at the airport from an Israeli couple who tried to smuggle them in, also on a flight from Paris.
Like most countries, Israel regulates the import of agricultural products. Both the etrog and the lulav (palm frond), both of which are used in rituals for the upcoming Sukkot holiday, are fresh agricultural products and are thus subject to these regulations.
This year, the Agriculture Ministry has advised travelers that it is permissible to bring in an etrog, but only one per passenger, and it must be declared before entry. The fruit may also be visually inspected in order to prevent the entry of contagious lesions and pests into the country, a ministry official said in a statement.
Lulavs and the other items used for the Sukkot rituals – hadassim (myrtle branches) and aravot (red willow branches) will not be allowed, and will be confiscated upon arrival.
Israeli authorities said last month they had managed to avert a shortage in lulavs, despite a last-minute announcement by Egypt that it would not allow exports of the palm fronds this year.
"The damage caused [by smuggling]... is manifested in a number of ways for which the entire population will pay a high price, including direct damage to humans and animals... harm to agricultural production, closure of the export market and damage to the environment and to quality of life," said the statement.
Failure to follow the rules could also result in a large fine, ministry officials warned.