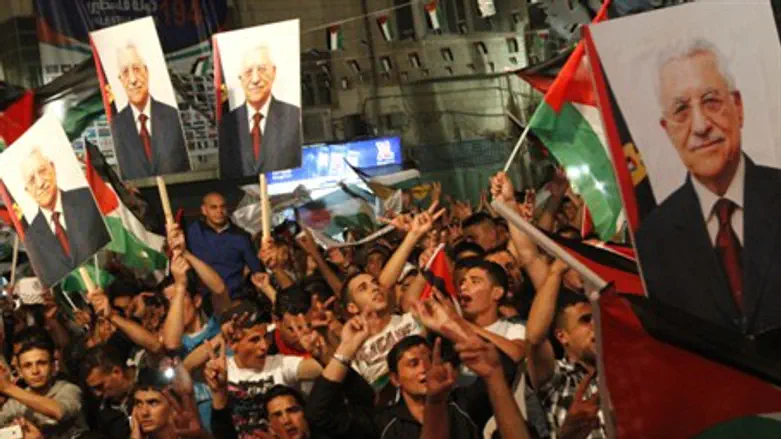 Ramallah Celebrates Abbas's Speech
Miriam Alster/ Flash90
Palestinian Authority chief Mahmoud Abbas on Saturday demanded a renegotiation of key aspects of the Oslo Accords, claiming that the agreement had prevented the PA economy from expanding as much as it could have. At issue is the Paris Agreement, which set up the system whereby Israel collects customs and taxes for the PA, and in return allows PA Arabs to work in Israel.

"We want to reopen the Paris Agreement and make changes to it," Abbas told reporters as he returned to Ramallah from Washington. "The agreement is not fair and there are restrictions on Palestinians that prevent our economy from growing and prospering. The Paris Agreement does not give us the opportunity to develop our economy and our country."
Sources in Jerusalem said that if Israel considers renegotiating the Paris Agreement, it  may reconsider other components of the Oslo Accords as well.

Abbas' statement came out of fear that Israel would take action against the PA for its failed statehood bid. Speaking Friday, a top official in the Prime Minister's Office, Liran Dan, said that the government was considering placing sanctions on the PA, including abrogating several previously signed agreements.
In an interview with IsraelArmy Radio, Dan said that Israel was considering several steps that might be implemented as a response to the UN bid which abrogated the Oslo Accord stipulation stating that all problems be resolved through negotiation. The government will discuss these options when Prime Minister Binyamin Netanyahu returns to Israel.

With that, Dan said, he believed that Israel and the PA would resume negotiations in the coming weeks.

Congressional officials in the U.S. have also threatened tp slap sanctions on the PA and withhold some or all of the $500 million the PA receives in American foreign aid annually.
Last week, the PA's  top monetary official warned that a cessation of foreign aid from the United States could lead to fiscal ruin and collapse. ""Really, the risk of a PA collapse is very real under the financial strain, without US assistance without donor assistance in general," Palestinian Monetary Authority Governor Jihad al-Wazir said, once again showing that the PA has not managed to use the enormous aid grants it has received to develop a viable economy, and prefers to blame Israel and the Oslo Accords for it.