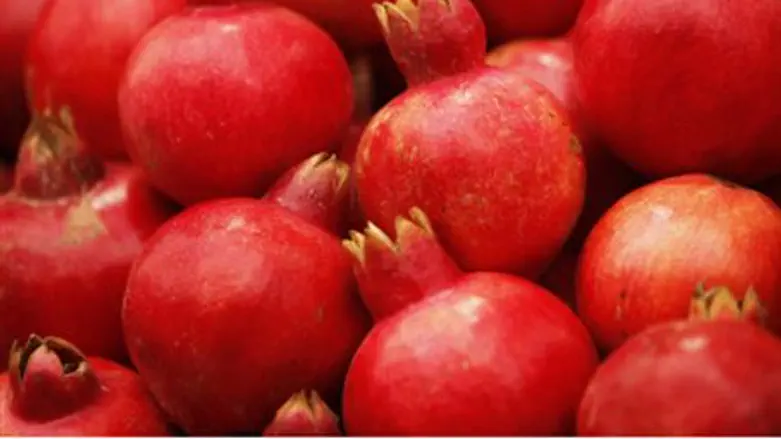 Pomegranates (file)
Israel news photo: Flash 90
Pomegranates and Rosh Hashanah are a bit like turkey and Thanksgiving-there are always left-overs.  If there are only a few remaining seeds, then just toss them into a pitcher of water with a slice of lemon.  It looks absolutely magnificent!  I actually buy extra pomegranates as I like to use them throughout the holiday in many different dishes, especially in salads.
In keeping with the whole holiday mood, I bought some pomegranate shaped cookie cutters, I am hoping that they will help me in one of my  obsessions.  Honey drips and sticky fingers drive me absolutely bananas!  I am constantly looking for ways to avoid them.  One method that has worked nicely in the past is individual miniature honey pots.  
This years new idea is one which I think will nicely occupy my children on erev chag as well.  Use some pre-sliced bread or challah and punch out some pomegranate shapes. If the bread is too soft to work with, then put it in the freezer first for about an hour to harden it.  Spread the cut out shape with honey and sprinkle with pomegranate seeds.  Repeat the process, but instead of pomegranate seeds use a few slivers of apple (pour some lemon juice over the apples first to prevent them turning brown).  Arrange the cut-outs on a platter or on individual plates along with the other simanim, traditional foods that are symbols of the holiday.  
The double advantage here is that it looks beautiful and I it will hopefully will prevent sticky fingers, sticky cutlery, and a sticky tablecloth.  Cut up the remaining bread into small squares and surprise everyone with home-made croutons.
To really emphasize the pomegranate theme try using pomegranate concentrate.  Pomegranate concentrate is a great way to sweeten foods without using any sugar.    I use pomegranate concentrate as a sweetener in cooked dishes, but I especially like it in salad dressing.  On Rosh Hashanah I always make at least one salad that will have pomegranate seeds as an ingredient,  as well as pomegranate concentrate in the dressing. 
I offer below two salad recommendations. Notice that both salads contain onions, this is because the flavor of the onion and the pomegranate harmonize beautifully.  The green salad works with any type of lettuce or even with spinach.  If you decide to make both of the salads, then double the vinaigrette recipe.
Salad #1
1 head romaine lettuce, shredded
1/2 red onion, thinly sliced
1/4 cup pomegranate seeds
Salad #2
3 medium-sized beets, cooked, peeled, and diced
1/2 onion, diced
1/4 cup pomegranate seeds
Pomegranate Vinaigrette:
1/4 cup extra-virgin olive oil
2 tbsp balsamic vinegar
1 tbsp pomegranate concentrate 
1 clove garlic, pressed