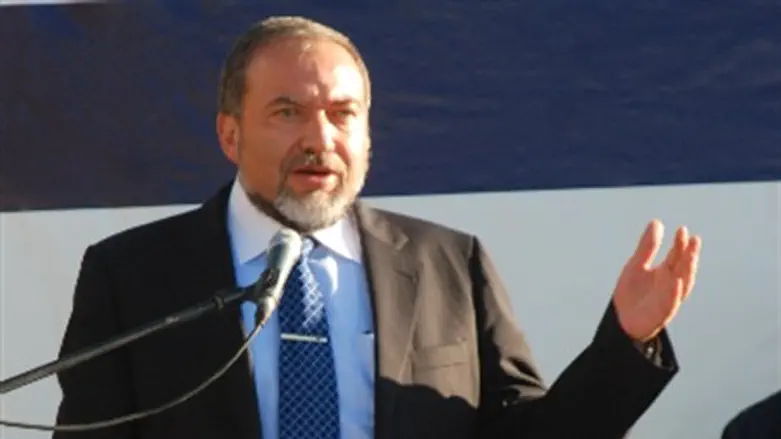 Lieberman
.Israel news photo: Flash 90
Israel left Lebanon and Gaza for peace and received war, warns Foreign Minister Avigdor Lieberman, who predicted on Wednesday there will "grave consequences" if the Palestinian Authority asks the United Nations for recognition.
Israel's "concessions have not brought peace," he told the Second Agricultural Conference in Kibbutz Revivim in the western Negev.
He stated that he does not mind being the "bad guy" for not accepting one-sided concessions and noted that Defense Minister Ehud Barak and others "agreed to all demands [but] what did we get in return? Another intifada and more bloodshed." Barak was responsible for the sudden pullout from the southern Lebanon security zone in 2002, leaving Hizbullah able to build up its terrorist army and launch the Second Lebanon War against Israel in 2006. He also eagerly backed the expulsion of Jews from Gaza and the withdrawal of all IDF positions.
The Foreign Minister expressed hope that common sense will win the day and that PA Chairman Mahmoud Abbas will step back from an attempt to sidestep talking with Israel and trying to win recognition in the United Nations General Assembly next week.
Surrendering all of the land restored to Israel in the Six-Day War in 1967 will not bring peace, he said, noting that the withdrawal from Gaza six years ago resulted in more intensive and wider terrorist attacks that encroached on metropolitan Tel Aviv.
Israel's concessions" have been taken for granted" by PA Chairman Mahmoud Abbas and are seen as signs of weakness and not a willingness for peace, he said.
Lieberman also warned that Hamas' strength is increasing in Judea and Samaria. Military and intelligence officials have warned that the establishment of the Palestinian Authority as an independent entity and without any measures ensuring security for Israelis, could leave Israel all but surrounded by Hamas, Hizbullah and Muslim Brotherhood regimes.