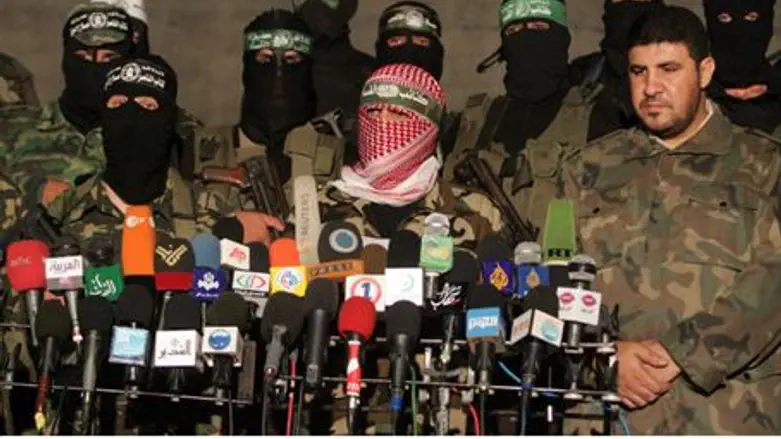 Hamas in Gaza
Israel news photo: Flash 90
A senior counter-terrorism expert warned Tuesday that Hamas is weighing a resumption of suicide bomb attacks against Israeli civilians.
Col. Jonathan Fighel (Ret.), a researcher with the Interdisciplinary Center's Institute for Counter-Terrorism, spoke at the Institute's eleventh annual terrorism conference.
"We're seeing more and more Hamas flags in Hebron. The public atmosphere to Hamas is much more lenient. This allows the creation of operational terror cells. Hamas is taking into consideration the renewal of suicide bomb attacks," Fighel said.
Fighel, who served in various operational and field posts of intelligence and research at the IDF Intelligence Corps, and who has held several command positions in Judea and Samaria, added that Hamas is "gaining influence in the West Bank and acting more freely. "
Hamas was using the so-called Hamas-Fatah reconciliation agreement as a vehicle to raise its profile in the West Bank, he added.
"Hamas's strategy is to replace the PLO as the legitimate representative of the Palestinian people," Fighel said.
The Hamas regime in Gaza is also "looking for duality, to govern while keeping its charter. This is the flexibility it enjoys," it added.
Fighel said Hamas was not deterred by Israel, adding that Israeli government and public opinion had become accustomed to Hamas' shelling of more and more cities with rockets.
At the same time, he noted, Hamas suffered a resounding failure when it tried to cause the Palestinians to enter a third intifada in recent months.
Col. Ronen Cohen, a research associate with the ICT, and a former head of the Terrorism Section of IDF Military Intelligence, said the main goal of Hamas and Hizbullah now is ensuring their own survivability amid regional turbulence.
To that end, both have developed arsenals of rockets to pound the Israeli home front, and defensive asymmetrical fighting forces to target IDF forces, he added.
But analysts note tactical flexibility does not indicate strategic or ideological flexibility – or a change in either organization's long-term agenda.