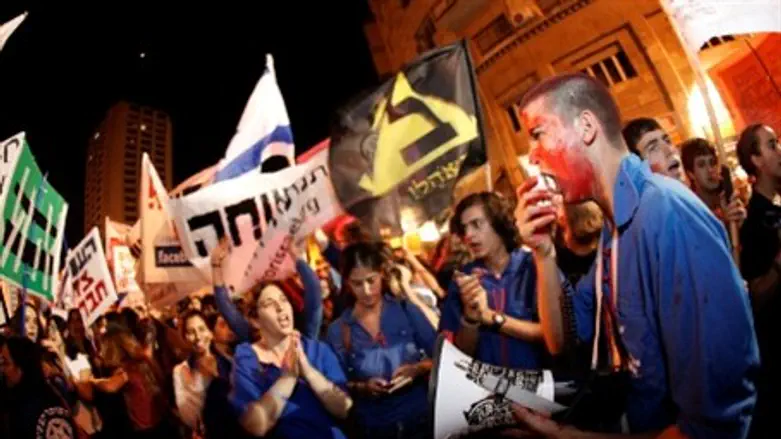 'Social justice' rally Saturday night
Israel news photo: Flash 90
A new poll shows that the reaction at the polls could be a slap in the face to center-left Kadima and the left-wing Labor party without hurting nationalist and religious parties and  clearly illusrates that the protest movement has not made a political dent in the government coalition.
The results of the Panorama poll, released on Voice of Israel government radio last week, are a blow to the "social justice" protest movement that has tried to set up the Netanyahu government as the source of most of Israel's social and economic problems.
If elections were held now, the Likud party would maintain its 27 seats, the strongly nationalist Yisrael Beiteinu party would gain one seat and win 16 mandates, the Shas religious party would also add one seat and have 12 Knesset Members, and the national religious parties would maintain their strength. The hareidi religious United Torah Judaism party would win six seats, one more than the present five.
On the other hand, Kadima's strength would plummet from 28 to 18, and Labor would lose three of its 13 MKs, despite those parties having an active presence at the "tent cities." The benefactors would be the new Independence (Atzmaut) party headed by Ehud Barak, the Green party, which never has succeeded in gaining Knesset representation, and the left-wing Meretz faction, which would double its Knesset membership from three to six.
The Arab parties also would maintain their present strength if elections were held now.
Voice of Israel, which along with center-left newspapers has been promoting the social justice movement and providing day-to-day and sometimes hour-to-hour coverage of minor activities at demonstrations, did not post the results of the poll on its website, an indication that the findings were not according to its desires and expectations.