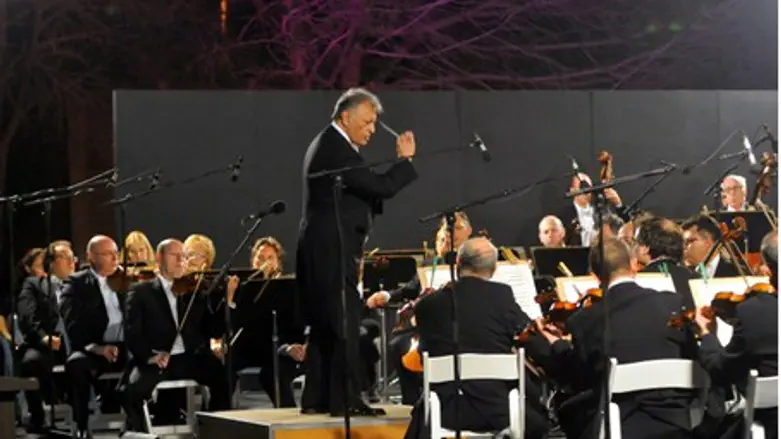 Israeli philharmonic (file)
Flash 90
Protesters with the "Palestinian Solidarity Campaign" (PSC) disrupted a concert by the Israeli Philharmonic in London on Thursday night.

Results of the protest were hardly complimentary to the uncouth protesters. While the PSC crowd managed to force the cancellation of the live broadcast of the concert, they were widely jeered by the crowd, which cheered when they were forced from the theater.

Minister Ed Vaizey took to the Twitter site to report, "Demonstrators seem to have turned entire audience pro Israel."

The Philharmonic was performing in the BBC Proms, a 116-year-old concert series held each summer. The BBC had extra security at the hall due to fears that the performance would be disturbed.

A total of roughly 30 protesters were removed from the hall, 12 following the first disruption and the rest after subsequent attempts to draw attention away from the music.

The BBC's live broadcast of the event continued after the first disruption, but a second outbreak led the station to decide to broadcast pre-recorded versions of the songs instead. "We are disappointed that BBC Radio 3 audiences were not able to enjoy the full performance," a BBC statement said. Those who missed hearing the live concert from home may have turned pro Israel as well. 

A similar incident took place in 2008, when PSC protesters interrupted a Jerusalem String Quartet concert, screaming, "They're Israeli army musicians! End genocide in Gaza, boycott Israel!" The protesters were later found innocent of racially aggravated behavior.

The PSC has faced condemnation recently over its support for a Scottish student convicted of anti-Semitic abuse, and over a lead member's conspiracy theories linking Israel to a recent massacre in Norway.