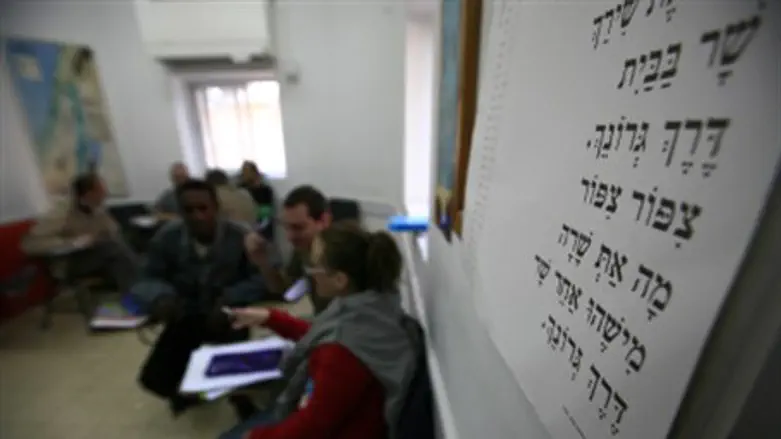 Learning Hebrew in Ulpan (file)
Flash 90
Government Secretary Tzvi Hauser has invited the public to present ways of preserving and promoting the Hebrew language. The invitation was extended through the Facebook page of the Prime Minister's Office and in additional websites.
Hauser will head a special team that will look for ways to preserve and develop the Hebrew language, and examine the suggestions put forth. The team will include the president of the Academy for the Hebrew Language, directors of government ministries, the IDF chief education officer, representatives of television and radio broadcasters and others.
The team's recommendations will join previous government initiatives in the same vein, including the annual Convention for the Hebrew Language, the Ben Yehuda Prize for the Hebrew Language and the issuing of a special stamp marking the uniqueness of the Hebrew language and its status.
"Through a combined effort by government ministries, communications people, professionals and academicians, it will be possible to preserve and develop the Hebrew language as a correct, proper and rich language," Hauser stated. "We are always searching for up-to-date ways of promoting the Hebrew language and acting to improve its status in the face of the challenges of the global age and the information revolution."
"The language is a basic characteristic of our definition as a nation, it is the foundation of our heritage, culture and historical memory. We must preserve its centrality, especially in an era in which forces act to blur national and cultural identity."
Ideas and suggestions should be sent to [email protected] no later than September 25.