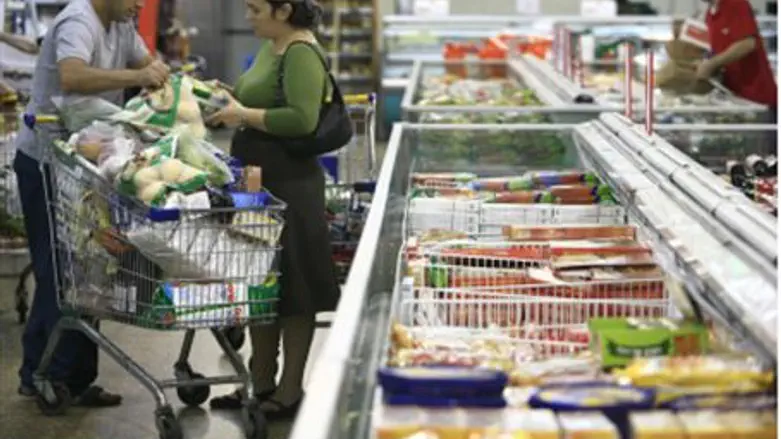 Supermarket
Israel news photo: Flash 90
With all the hoopla surrounding the tent city protests on the high price of housing, many Israelis may have forgotten how the whole high-price protest movement began. But as it turns out, the Facebook activists protesting expensive cottage cheese – and other high supermarket prices – is alive and well, and, in fact, has just scored a major victory for Israeli consumers. Thanks to the threat of a nationwide boycott, the Supersol chain has agreed to reduce prices on a basket of 30 basic prices by 20%.

Included in the basket are items like rice, sugar, hummus – and, of course, cottage cheese. In addition, prices that the chain already lowered on some 1,500 products will remain at their current lower level until at least the end of 2011.
Tuesday night's decision came after a meeting with student represantatives; as a result, the boycott, which had been planned for Wednesday and was to last at least one week, was called off. The earlier decison to cut prices by some 15% on about 1,500 products came after a meeting with the group on Sunday night.

Some 5,700 people joined a Facebook group organized by the Tel Aviv University Students' Union calling for a boycott of the chain, and a poll in financial newspaper The Marker Tuesday said that 49% of a sample of Israelis said they would either definitely, or most likely, join the boycott.

In interviews Tuesday, the protest organizers said that they had nothing against Supersol chain, but they had chosen it to undergo the boycott because it had branches operating under several names, and was the largest food retailer, and its purchasing power gave it as much influence over prices as manufacturers. A spokesperson for the group said that Supersol bad been chosen because it was Israel's largest supermarket chain. "Once we finish with Supersol we will move on to other chains," a spokesperson for the group said.