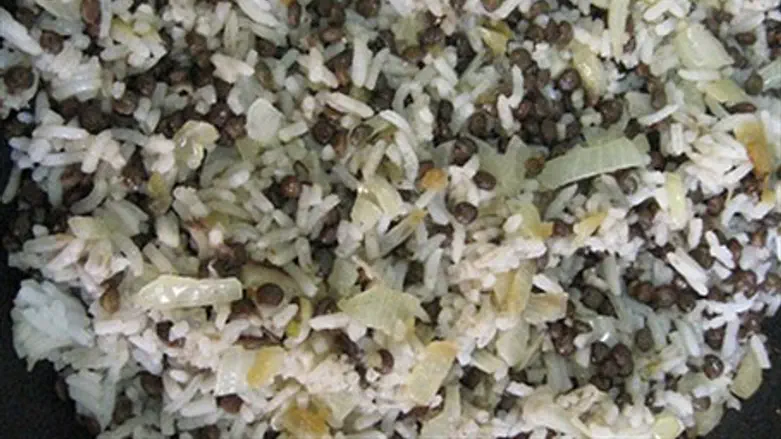 Majadera
justaddflax
Lentils are wonderful to eat all year round but I especially like to make them in the summer.  This is because they are the quickest cooking legume and won't heat up the house as much as beans that require longer cooking times.  One of my favorite lentil dishes, both to cook as well as to eat,  is majadera.
Majadera is a traditional middle-eastern dish that consists of rice cooked with lentils and topped with fried onions and yogurt.  It is a simple dish to make and requires very little prep time.  While I prefer to make this meal for dinner and serve it hot, Egyptian Jews would also serve it cold for Shabbat lunch.
I like to serve this dish along-side a chopped Israeli salad.  I suggest using pickled lemons in the salad to give it a bit of tangy flavor.  Pickled lemons are sold in supermarkets, usually next to the horseradish and other refrigerated condiments.
Ingredients:
Majadera
1 cup Persian brown rice
1/2 cup green lentils
2 1/2 cups water
salt and pepper
Fried Onions:
2 large onions, diced
olive oil (apx.1/4 cup)
Salad:
1 tomato
1 cucumber
1/2 red pepper
1/2 small onion
1 bunch rocket
1 tbsp pickled lemon (optional)
2 tbsp olive oil
Juice of 1/2 lemon
salt and pepper
Place the rice and lentils in a pot. Bring to a boil. Simmer for 45 minutes or until all the water has been absorbed.
Heat the olive oil in a frying pan.  Add the onions, stirring often until they turn dark brown and are almost carmelized.
Chop the salad vegetables into small pieces.  Place in a small salad bowl and toss with the olive oil, lemon juice, salt, and pepper.
Serve the majadera on a plate  topped with the fried onions and accompanied by salad.
Serves 4-6.
Enjoy!
Sima Herzfeld Navon has a clinic for holistic medicine.  She also teaches healthy cooking and holistic nutrition.