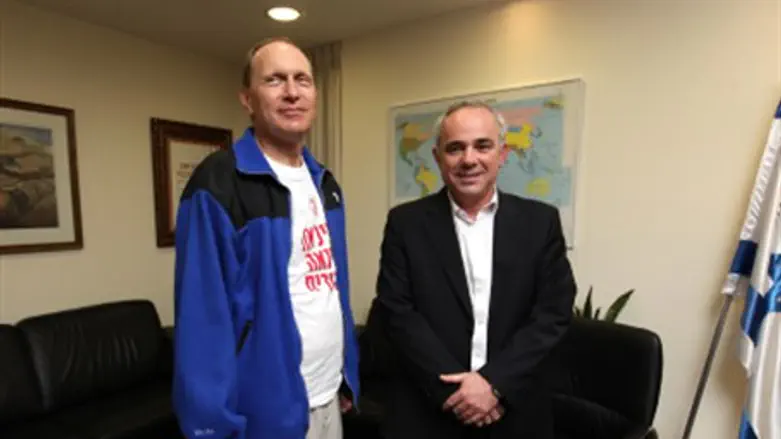 Steinitz and Edelman
Flash 90
After a 158-day strike, representatives of Israel's doctors signed an agreement with the Finance Ministry that will bring them back to work. Doctors' basic wages will be raised by 26% over 9 years and an additional 17% will be added to their wages in exchange for what are being defined as improvements in medical practice in Israel.
The agreement was formulated in nine days of a mediation process led by Prof. Yitzchak Peterburg. The long strike involved the cancellation of over 10,000 elective operations and tens of thousands of visits to outpatient clinics.  
Ilan Levin, director of wages in the Finance Ministry, said that the process of negotiation was long and arduous. "We insisted upon a long term agreement that would benefit the periphery and give the doctors a schedule for promotion. Indeed, this agreement allows doctors who want to make a living solely from working in a hospital to do so." Many doctors have been forced to moonlight  and work extra hours at clinics or private practices, with workweeks that are way beyond the norm.
The doctors' basic salary will increase by at least 24% over nine years. Additional increases will be given to doctors working in the periphery – as outlying areas are referred to – and in professions that suffer from a shortage of doctors. A doctor working in the periphery in certain professions will make 20% more than a doctor working in central Israel, in a high-demand specialty.
One thousand new positions for doctors – most of them for interns – will be made available, in order to ease the burden on interns who often work 36 hours straight. Doctors with up to five years' experience as specialists will have to work at least two full shifts as doctor on-call.
In addition, grants of up to 500,000 shekels will be given to doctors in the low-demand specializatons in the periphery.
Doctors will have to use a time clock to clock in and out of work. This is the first time such an arrangement is being implemented in Israel's public sector health system, and the Finance Ministry sees this as an important advance.