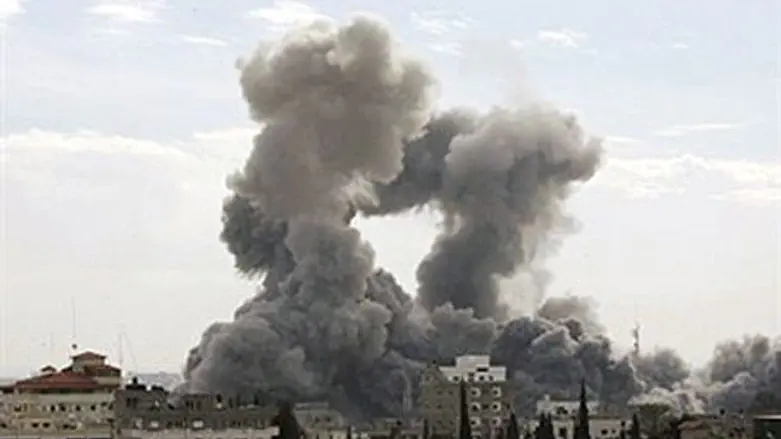 IAF Counterstrike (Gaza)
Arutz Sheva: Flash 90
IAF aircraft targeted overnight Wednesday a weapons storage facility in the northern Gaza Strip as well as a smuggling tunnel and weapons manufacturing site in the southern Gaza Strip.
The IDF Spokesperson said in a statement that direct hits were confirmed.
The sites were targeted in response to the firing of rockets from Gaza at Israel Wednesday evening, said the statement.
Gaza-based media sources said that three Palestinian Arabs were seriously injured in the air strike.
Gaza terrorists launched at least 16 rocket and mortar attacks at communities across the region on Wednesday evening. Two Israelis were wounded in the night-long barrage, including a baby.
A few minutes after midnight, three medium-range Grad Katyusha missiles were fired at Be'er Sheva. The Iron Dome anti-missile system intercepted two of the projectiles, destroying them upon impact. The third landed in an open area on the outskirts of the city. No physical injuries or damage was reported.
An hour earlier in Ashkelon a 9-month-old baby was seriously hurt by flying shards of glass when a Gaza missile scored a direct hit on the private vehicle in which she was riding.
"The IDF will not tolerate any attempt to harm Israeli civilians and IDF soldiers, and will not hesitate to respond with strength and determination to any element that uses terror against the State of Israel and until calm is restored," the IDF said in its statement.