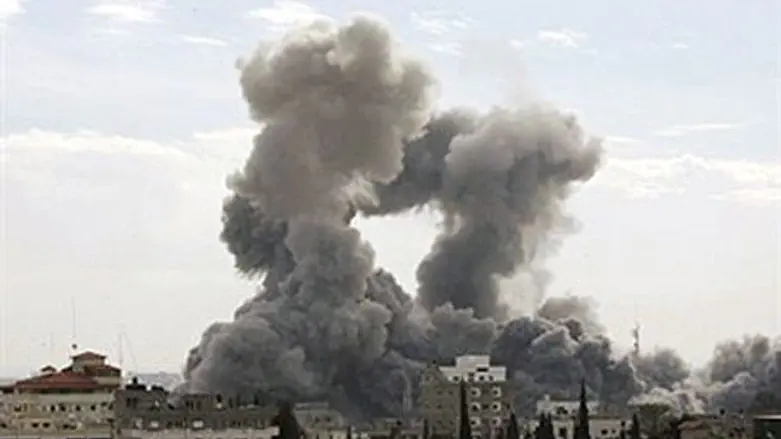 IAF counterstrike (Gaza)
Arutz Sheva: Flash 90
The Islamic Jihad terrorist group is enraged over the death of a local commander in its Gaza division following an air strike overnight by the Israel Air Force.
An IDF spokesperson confirmed that 34-year-old Ismail al-Asmar was killed in a targeted air strike on a car in which he was traveling late Tuesday night. Two other terrorists in the car were wounded, according to local medical sources. They were traveling near Rafiah, the city that straddles the Gaza border with Egypt.
Senior Islamic Jihad member Ahmad al-Mudallal told reporters in response to Al-Asmar's assassination, "This crime was meant to underline that Israel only understands the language of blood and terror. "We will take action against the enemy in a language that it understands, the language of blood," he vowed. "We will not ignore the crimes it commits against our people."
Al-Asmar was a local leader in Rafiah, according to the IDF spokesperson, who added that he was "involved in smuggling weapons and sought to advance military operations in the Sinai Peninsula." She added that "Lately there have been several attempts by Gaza terrorists to carry out attacks in Sinai, and that was what this operative was involved in."
The air strike came in retaliation for days of missile and mortar attacks on southern Israel and is part of the effort to silence the rocket fire against Israel's citizens.
Two other terrorists also were targeted early Wednesday morning by IAF fighter jets in two separate locations in Gaza attempting to launch a rocket attack at southern Israel. A direct hit was confirmed in both cases and all Israeli personnel returned to base unharmed.
It was not clear to which terrorist group the operatives belonged.
Later in the morning, Gaza terrorists fired two mortar shells from two separate locations at the Eshkol Regional Council district. The two shells exploded in two areas, causing light damage but no physical injuries.
Residents of southern Israel's Gaza Belt region have been advised to remain within a 15 seconds' range of any safe space or bomb shelter today (Wednesday, Aug. 24). Those who wish to reach the Home Front Command for any reason may dial 1207. The website, which contains specific information on how to deal with a rocket or mortar attack, and how to determine the safest space in your home, may be reached by clicking here.
Directives that were issued following the so-called "ceasefire" publicized by the Gaza terrorist groups have been canceled, Home Front Command officials emphasized.