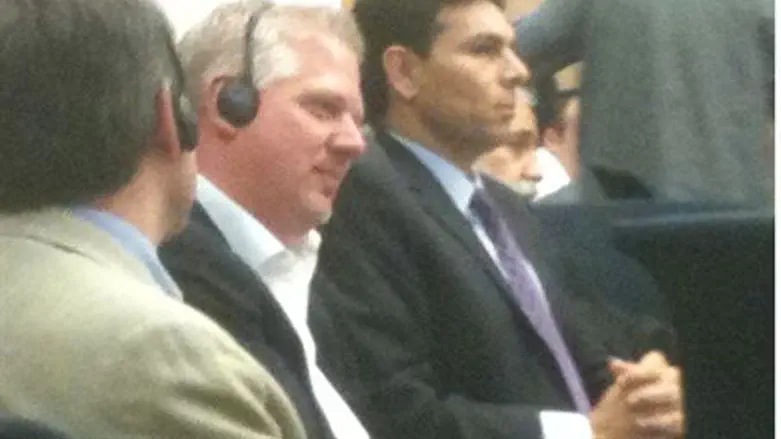 Glenn Beck in the Knesset
Israel News photo: Josh Hasten
The debate over whether former FOX News talk show host and Conservative commentator Glenn Beck is good for the Jews or bad for the Jews goes on in advance of his "Restoring Courage" rally to be held in Jerusalem on Wednesday afternoon.
Moshe Feiglin, head of the Jewish Leadership faction inside the Likud, recently wrote.
"I must admit that when a friendly non-Jew starts to quote the Bible, I get a bit nervous. It is not just the long history of anti-Semitism that has developed a genetic mutation in the noses of Jews, giving them great sensitivity to anything that smells of Christianity - but also my own personal experience with avowed lovers of Israel and the settlers who took great pains to mask their Christian motives."
But David Ha'Ivri, head of the Shomron (Samaria) Liaison Office, rejected the criticism of Beck on Tuesday, saying he is a "unique Gentile" who loves Israel and Jews.
"Glenn Beck is one of those unique gentiles who appreciates the Jewish people and our national, historical and theological goals," Ha'Ivri said. "His agenda is out in the open and very clear: he wishes us well as the Jewish people preserving our Torah culture on our Holyland."
However, in his pre-rally event held for 3,000 mostly American Christians at the Roman amphitheater in Caesarea on Sunday, Beck did not show any indication that he knows of the controversy he caused and simply told the world to "not only love Israel but love the Jewish people as they are."
Declaring that the entire world is "reentering the age of miracles of God," he received thunderous applause when he said, "While there may not be a political solution, the good news is the G-d of Israel ain't running for office."
Simultaneously broadcast to over 80 countries throughout the world and close to 1,200 viewing parties, Beck said, "Let the Jewish people know, no matter what our governments may say, we are not our governments, we stand with you. We bring truth, we bring peace, we bring support, we bring comfort."
Joining Beck on stage were Pastor John Hagee, founder and president of the Christians United For Israel (CUFI), American born Rabbi Shlomo Riskin, Chief Rabbi of Efrat, David Barton, world-renowned historian and Dr. Mike Evans, award-winning journalist and New York Times bestselling author who has sold over 23 million books.
Providing musical entertainment for the evening was Grammy nominated R&B/soul/gospel singer Vernessa Mitchell, who was joined by Israeli singers and musicians.
"The Jews are still the apple of G-d's eye, still the chosen people, still the covenant people," declared Pastor Hagee as he took the podium. He drew an analogy with the late president John F. Kennedy's "Ich bin ein Berliner" speech, when he announced "Ani Yisraeli" (I am an Israeli). He then led the rally participants in chants of: "I am an Israeli!"
Rabbi Shlomo Riskin, formerly of the Lincoln Square Synagogue on Manhattan's upper west side, spoke of Jewish appreciation for the support of the Christian pro-Israel community, and in particular that of Glenn Beck, who, Riskin said, is a "deeply patriotic American, a true friend of Israel."
Lauding the stoic character of the Christian supporters of Israel, Rabbi Riskin said, "We are not alone. We are Jews and not Christians.You Christians, nevertheless, have the courage to love us in our otherness. We are profoundly grateful for your courage to love us and stand with us."  
Prior to the rally in Caesarea, Beck had toured the Samaria (Shomron) region, providing support to the communities there with a special visit to the town of Itamar, the site of the barbaric murder of five members of the Fogel family by Arab terrorists in March of this year.
Said Beck on his radio program broadcast from Israel, "I went to Itamar in Judea and Samaria; our cameras were the first to be allowed into the home. It is empty now and they are gone but they couldn't get all of the blood off the walls. I will tell you, this was one of the most horrific, bloodiest massacres I could imagine. It was horrifying, horrifying.
"And yet in that community, profound hope. If you stand in their backyard, you can see the two mountains: The Mountain of Blessing and the Mountain of Curse. It is scriptural. Which do you choose? The mountain of blessing or curse. And this community has both.
"I can't believe what people go through here in Israel, and the world stays silent. The media is distorting and lying, lying to you. Lying to you. And it is important that you know it."
Arab Knesset members have warned of possible violence on Wednesday as Beck holds his "Restoring Courage" rally at the Southern Wall excavation sites near the Temple Mount, an event expected to garner an audience of over 2,000 at the Davidson Center in Jerusalem.
Arutz Sheva reported that Hadash MK Muhammad Barakei said, "There are enough racists in Israel without importing them from the US. The lessons from Ariel Sharon's visit to the Temple Mount apparently haven't been learned. This event isn't for building coexistence, but to spark fires in a sensitive location ahead of the United Nations vote on a Palestinian state in September. There is a danger that the event will lead to people being harmed, and the police should have prevented it."
MK Ahmed Tibi (UAL-Ta'al) called Beck "a bizarre, conservative, neo-fascist comedian who is motivated by a hatred of Islam." He also accused MK Danny Danon (Likud), who is involved in Beck's event, of "dancing to Beck's flute-playing and rejoicing to every outrageous word against Arabs and Muslims."
Beck advised his critics to watch the event before casting judgment. He said that when he held his Restoring Honor event at the Lincoln Memorial in Washington, DC, last August, people said he would desecrate the site with what they thought would be a right-wing political rally, but it ended up being nothing of the kind.
"Jerusalem is an example of coexistence working. You can't deny truth," he said.