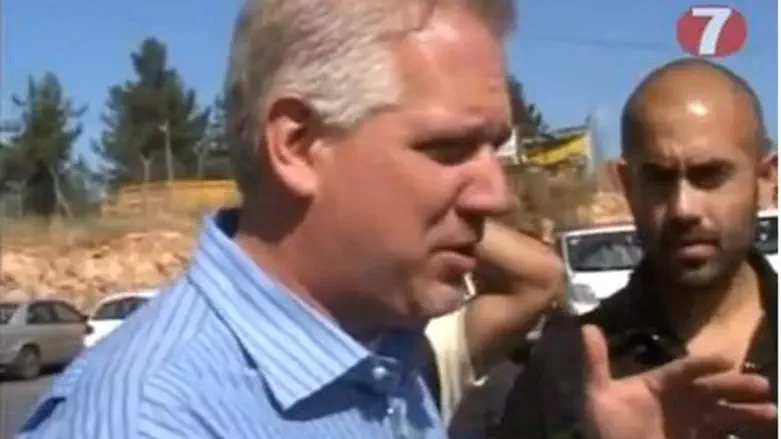 Glenn Beck in Judea
Yoni Kempinski: Arutz Shev
Glenn Beck says he has no doubt that Israel is right in the struggle against the Arab world and cannot understand hesitant Israelis.
The popular conservative television personality and commentator is in Israel in preparation for the massive "Restoring Courage" rallies on Wednesday.
"I have no doubt that Israel is right," he said, adding that Israel has no reason to question Israel's fight for its very existence.
The two major rallies on Wednesday will take place at the Davidson Visitors Center near the entrance to Western Wall Plaza and at Safra Square, near the center of the city and where Jerusalem's city hall is located. Several leading American politicians will attend, but Sen. Joe Lieberman said that family obligations will prevent him from participating.
Beck scrapped his original plan to hold the rally on the Temple Mount after his security team advised him that "40,000 Muslims staring down" at the crowds could endanger their lives.
During a previous visit to Israel, Beck noted that Arabs threw rocks and stones from the Temple Mount on Jewish worshipers at the Western Wall.
Beck last week toured Samaria and visited the surviving members of the Fogel family in Itamar, in northern Samaria, where two Arab teenagers earlier this year brutally knifed to death three young children, including a young baby, along with their parents. Three children survived the attack.