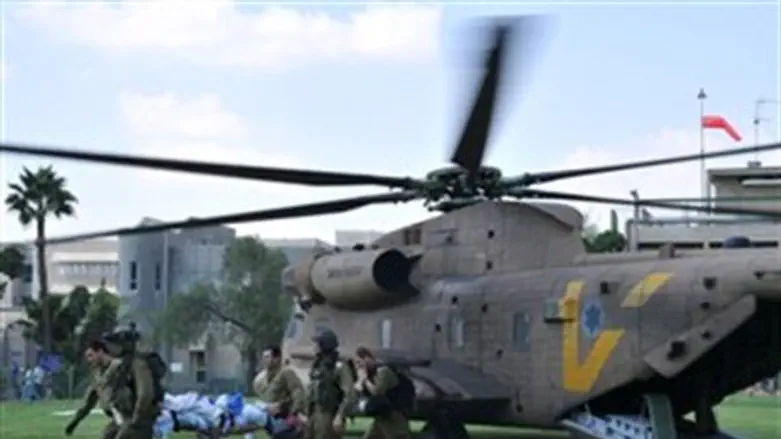 Evacuation of wounded persons
Arutz Sheva photo: Flash 90
A survivor of the attacks Thursday near Eilat feigned death for an hour after she and her husband were hit by terrorist gunfire. Her husband was killed.

Yosef and Esther Levy of Holon were driving on Highway 12 when they were ambushed by terrorists with guns and bomb belts. The terrorists sprayed the car with fire, hitting both passengers and causing the vehicle to overturn.

"There was blood on the floor, and I heard my husband moaning," Esther later told Yediot Aharonot. "I saw that his shirt was covered in blood."

Esther was hit in the shoulder and suffered additional injuries when the car crashed. She managed to remain still for an hour as IDF soldiers engaged the terrorists and a gun battle ensued.

Her actions may have saved her life. Terrorists made sure to "confirm the kill" by shooting again from up close after attacking a second car full of travelers, all four of whom were murdered.

After an hour, she managed to quietly remove her mobile phone from her purse and call one of her children and explain the situation. Minutes later, soldiers made their way to the car and removed both passengers.
Doctors were unable to save Yosef Levy. His funeral will be held Friday.