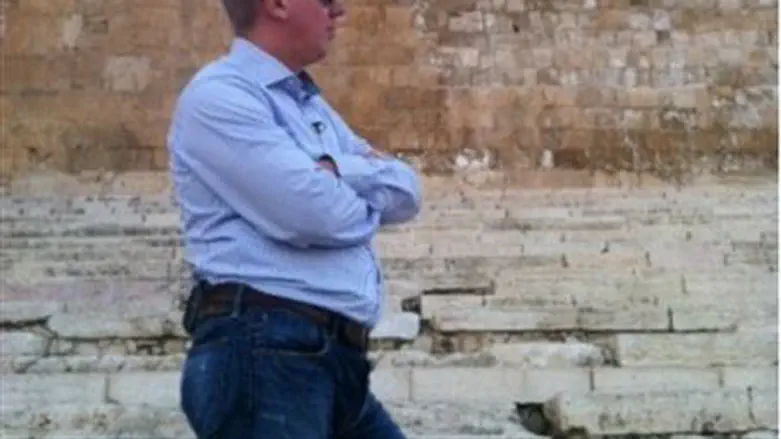 Glenn Beck with kipa at Temple Mount
Israel news photo provided by Fern Sidman
Glenn Beck has arrived in Israel, where the red carpet has been rolled out prior to his "Restoring Courage" rally in Jerusalem on Wednesday.
The former Fox News commentator, who now telecasts on his own outlet, is hoping for tens of thousands of people to join him for the follow-up   to the "Restoring Honor" rally in Washington last year.
Beck has scrapped plans to hold the rally on the Temple Mount after his security team warned him that "40,000 Muslims staring down" at the crowd might endanger them. He will hold two events – one at the Davidson Center at the southern edge of the Western Wall and the other in Safra Square, where Jerusalem's municipal offices and city hall are located.
A staunch backer of Israel's claim to all of Jerusalem, the Golan Heights and Judea and Samaria, he will visit communities in Samaria on Monday with the accompaniment of Likud Cabinet Ministers Moshe Ya'alon and Yuli Edelstein, along with Jewish Home Minister Rabbi/Dr. Daniel Hershkowitz and senior Likud Knesset Members who are strong nationalists.
Beck recently visited Israel to attend a Knesset panel, which invited to give his views on how to fight the international anti-Israel campaign that tries to show the Jewish State as being illegitimate.
During a visit to Gush Etzion, south of Jerusalem, Beck said that Jordan is the true state for Arabs living under the Palestinian Authority.

Beck recently visited the Auschwitz concentration camp and vowed not to let history repeat the mistakes of the past.