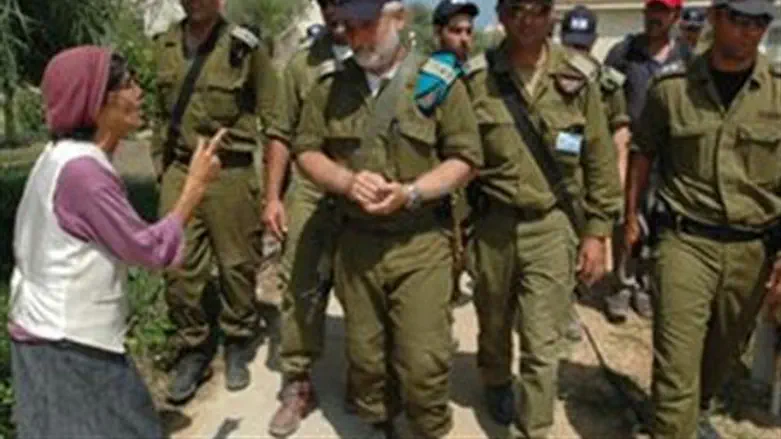 Expulsion of Gush Katif
Flash 90
The Gush Katif museum, depicting the lives of Jews expelled six years ago, will be open until 2 a.m. Monday night, the beginning of the Fast of Tisha B'Av.
Megillat Eicha – the Book of Lamentations – will be recited at 8:30 p.m. by candlelight, as millions of Jews around the world recite the book in dim light in synagogues and at the Western Wall. The semi-darkness at the museum marks both the destruction of the First and Second Temples and the expulsion of 9,000 Jews from Gush Katif, northern Gaza and four northern Samaria communities the week of Tisha B'Av in 2005.
Tzion Toby, who was expelled from the Gush Katif community of Ganei Tal, will recite Eicha.
Rabbi Yochanan Fried will speak at 9 p.m. on "From Destruction to a Vision and Hope."
The museum will remain open until 2 a.m., and there will be a continual showing of a video of life at the Gush Katif communities. Further details are available at telephone 0545-684066.
The government under Ariel Sharon ordered the expulsion of Gush Katif Jews and the destruction of their homes, based on a premise that ridding the Gaza region of Jewish civilians and the military would end years of terrorist attacks from Hamas-controlled Gaza.
Since the expulsion, Hamas and other terrorist groups have incessantly attacked southern Israel and encroached on central Israel with thousands of missiles, killing several people, wounding and traumatizing thousands of others and causing widespread property damage.