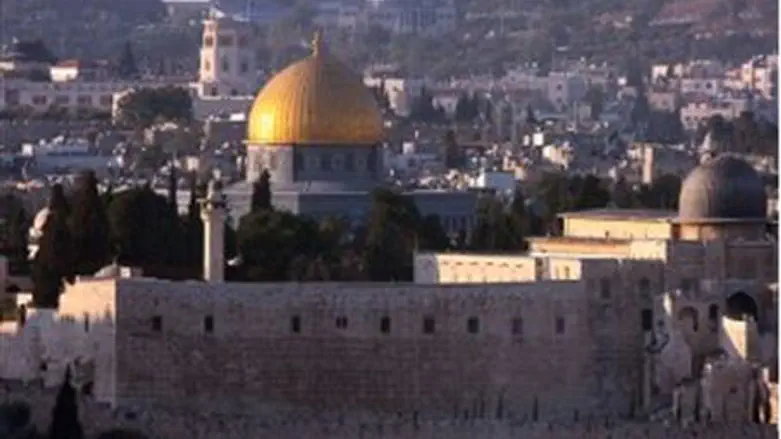 Temple Mount
Israel news photo: Flash 90
Top police officials met Sunday with politicians and activists to discuss a report on anti-Jewish discrimination on the Temple Mount put together by the Likud's Jewish Leadership faction. The police promised to change discriminatory policies against Jewish visitors to the Temple Mount.

The meeting was held after previous Knesset meetings on the subject revealed systematic discrimination regarding access to the Temple Mount, with those with an obviously Jewish or religious Jewish appearance being told they could not enter. Jewish tradition teaches that the Temple Mount is the holiest site on earth, and many Jews seek to visit the site despite the destruction of the Temple and some rabbis' objections to such visits.

Among those regularly turned back were brides who wished to visit the holy site on their wedding day, and soldiers who came in uniform.

A report presented Sunday by Michael Fuah, Jewish Leadership's director, accused police of deliberate dishonesty about their policies on the Temple Mount. Senior officers who testified in Knesset were not open about the criteria they use when deciding who to admit, according to the report.

Specifically, commander Avi Biton's testimony was contradicted by testimony given by other policemen, who admitted to splitting Israeli visitors into two categories: those who appeared to be religious Jews were considered "Jews" and were subject to additional inspection or turned away, while those who did not appear religious were considered "tourists" and allowed to enter.

In addition, police are accused of having instituted several discriminatory policies, such as a prohibition on bringing Jewish holy books onto the Temple Mount, with no legal justification. Police have also allegedly told nine Jews that they are banned from the Mount altogether, without giving a reason why.

Fuah expressed satisfaction with the results of Sunday's meeting, which took place in Knesset Speaker Reuven Rivlin's office. Police admitted that Jews have not been treated equally in recent years, and promised to take steps to rectify the situation, he said.