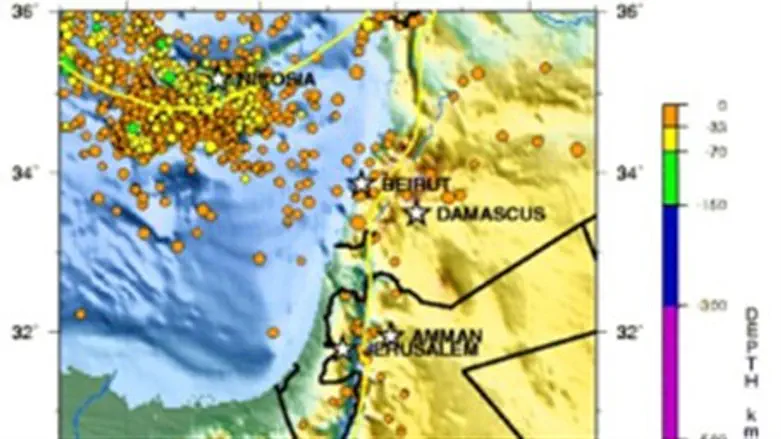 Seismic map
Arutz Sheva
 An unusual and rare earthquake struck Israel's central coast Sunday, and tremors were felt as far south as Gaza. The earthquake registered 4.3 on the Richter scale, and no one was injured.
"We have no trace of any historic important earthquakes in the past" in the area, earthquake-report.com reported.
One Haifa resident wrote to the site, Haifa, "I felt a light shaking from side to side" at about 11:55  Sunday morning,
The quake was 10 miles deep and was traced from 44 miles northwest of Tel Aviv to 49 miles west-southwest of Haifa.
One Petach Tikva resident told Arutz Sheva, "The table began  to move for about 10 seconds."
Another earthquake, which registered 5.9 on the Richter scale on a Greek island, shook up hundreds of thousands of Israelis four months ago between Tzfat, in the Galilee, and Nahariya, on the northwestern cost.
Two major earthquakes have struck Tzfat (Safed) in the past two centuries, the worst one striking in 1837, killing 4,000 people, destroying the city and nearby Arab villages.
A smaller quake in 1927 caused damage as far south as Shechem in Samaria.