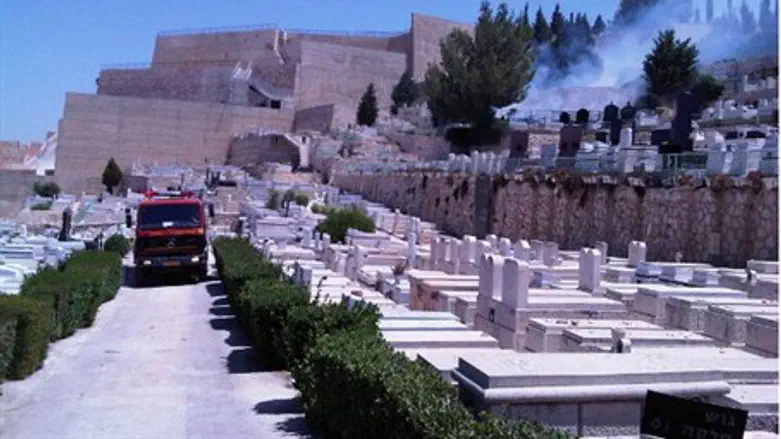 Har HaMenuchot arson
Eitan Somech
A Jewish worshipper who came on Thursday to pray at the tombs of revered sages in the Har HaMenuchot cemetery in Jerusalem, came across several Arabs who were attempting to set some shrubs in the cemetery on fire.
The Jew reported this incident to Arutz Sheva through its You Report page, saying, "The Arabs claimed that they simply threw a cigarette. They were sitting in a cemetery and I do not know what they had to do there, and they are the only ones who were there."
The worshipper, who attached a picture of the fire (below), wrote, "Here's what they do not want you to know. Arabs tried and almost succeeded in igniting shrubs in the Har HaMenuchot cemetery. I called the fire department but by the time they got there the Arab arsonists were gone, and so ended another arson attempt. Is this the new form of terror attacks?"
Arson attempt at Har HaMenuchot
credit: Eitan Somech
In the past several weeks, there has been evidence that Palestinian Authority terrorists are reverting to the first Intifada tactic of trying to burn down Jewish communities in Judea and Samaria. Arabs have set more than 20 fires in Jewish communities, mostly outposts, which have endangered lives and forced the evacuation of residents.
Police investigations have determined that the blazes were intentional, and tracks have led them Arab villages nearby the Jewish communities. Six Arab suspects have been arrested.
In one such incident last Friday, Arabs from Burin started a huge fire which spread up a nearby mountain and came dangerously close to the homes of the nearby community of Givat Ronen.
Firefighters who were called to put out the fire were pelted with stones.
(Arutz Sheva's North American Desk is keeping you updated until the start of Shabbat in New York. The time posted automatically on all Arutz Sheva articles, however, is Israeli time.)