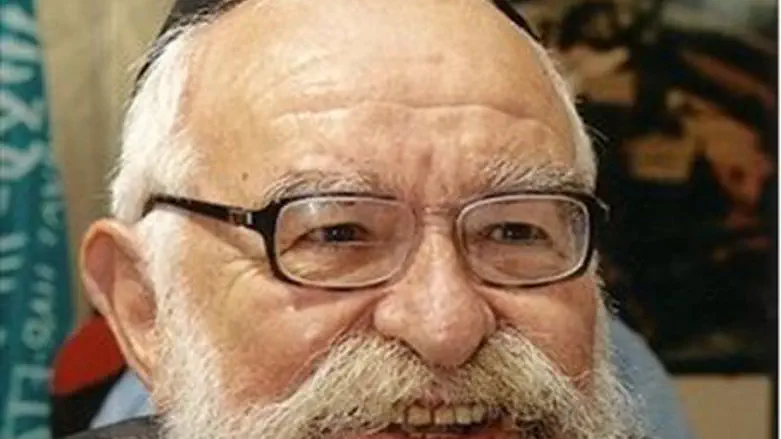 Rabbi Yehuda Amital
Israel news photo: Or Etzion
Friday marked one year since the death of Rabbi Yehuda Amital, one of the heads of Har Etzion yeshiva in Alon Shvut, and among the creators of the "Meimad" political stream.
Rabbi Amital was born in Transylvania in 1924. In 1944, under the Nazi occupation, he was sent to a work camp for eight months. The rest of his family – his parents, brothers, and sister – were murdered.
"When my parents and I were separated, my father told me, 'I'm sure that you will reach the land of Israel,'" Rabbi Amital recounted in a testimony to the Yad Vashem Holocaust memorial project. When he was released from the work camp at the end of the war, he immediately set off for Israel, then British Mandatory Palestine, arriving during Chanukah of 1944.
Upon arrival he resumed his studies, and was soon ordained as a rabbi. When Israel was attacked immediately after declaring independence, Rabbi Amital enlisted in the fledgling Israeli army and fought in the War of Independence.
After the war he learned in Pardes Hana, and was among the founders of Yeshivat Hadarom in Rechovot. He served as head of the Har Etzion hesder yeshiva in Gush Etzion. "I took it upon myself to be head of the yeshiva because I knew I needed to take the place of friends who did not survive," he explained, "That gave me the power to do something. The fact that I was among the few who remained alive gave me strength to act, otherwise I would not have taken the position."
In 1988, Rabbi Amital was among the founders of the Meimad political stream, a relatively left-wing movement that worked along with the Labor party for many years.  In 1995 he served as minister without portfolio in the Rabin-Peres government, even though he was not a member of Knesset.
After leaving politics, he returned to Har Etzion yeshiva.
Rabbi Amital was not born with the name Amital, but with the name Klein. He decided to change his name after coming to Israel. "There is a biblical verse that says, 'The remnant of Israel is like dew [tal],'" he once explained. "I felt that verse described our situation during the War of Independence, when we were alone and fought alone against nearly the entire world. I looked for a name – I will be like dew [tal] to Israel."
About the Holocaust, he said, "It has an impact on our entire lives. Everything in Israel has some connection to the Holocaust, everything is affected by the Holocaust on a subconscious level."
Rabbi Amital died on July 9, 2010, the 27th of Tammuz 5770.