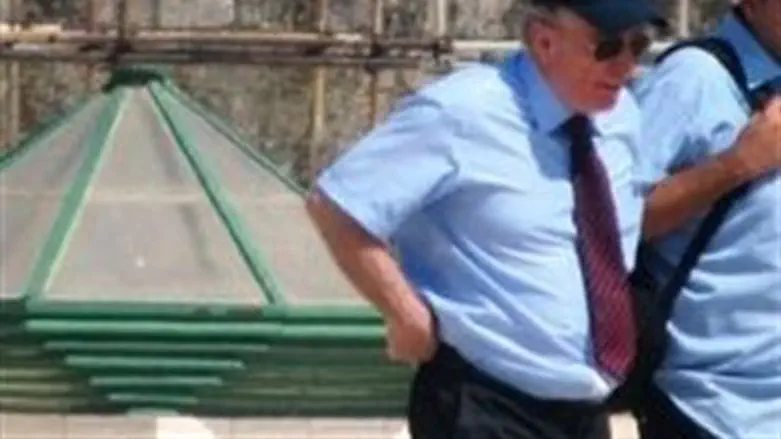 Yehuda Weinstein on Temple Mount
Arutz Sheva photo: Har HaBayit Shelanu
Attorney General Yehuda Weinstein visited the Temple Mount on Tuesday in order to closely examine complaints that his office had received regarding discrimination by police officers towards Jewish visitors to the compound.
While Muslims are allowed to pray freely at the Temple Mount, Jews are allowed to enter the area only in small groups, and may not pray while there.This is the result of then-Defense Minister Moshe Dayan's decision to leave the holiest site in Judaism in the hands of the Muslim Wakf after Jerusalem's reunification in 1967.
Activists recently held a protest in which they accused police of discriminating against Jews in an attempt to appease the Muslim Wakf religious authority. Police limit the number of Jewish worshippers allowed on the Temple Mount at one time in order to prevent conflict with Muslim worshippers. They often close the Mount to Jews in response to Muslim riots – despite evidence that Muslim riots have been planned in advance for the specific purpose of forcing Jews out.
According to the Har HaBayit Shelanu (The Temple Mount is Ours) organization, Weinstein's visit was meant to examine this issue firsthand, as well as to verify the allegations that two police officers had been untruthful to the Knesset and the courts when they claimed there was no discrimination towards Jews on the Mount.
Weinstein reportedly examined the state of the excavations on the Temple Mount where the Wakf is purposefully attempting to erase all archaeological evidence of Jewish presence in the past.
Har HaBayit Shelanu also noted that the Attorney General was exposed up close to discrimination towards Jews at the entrance to the Temple Mount: He watched the police request IDs from kippah-wearing worshippers and  warn them not to pray or prostrate themselves in front of the Temple Mount or they would be banned from entering the area. Worshippers who were not wearing a kippah were not similarly warned, possibly as they were not expected to pray.
"The visitors to the Temple Mount expect the Attorney General to launch an investigation and find out who in the police gave the discriminatory orders and who then ordered the officers to deny that these orders were given, [lying] in the courts and the Knesset, and bring those responsible to justice," Har HaBayit Shelanu said in a statement.