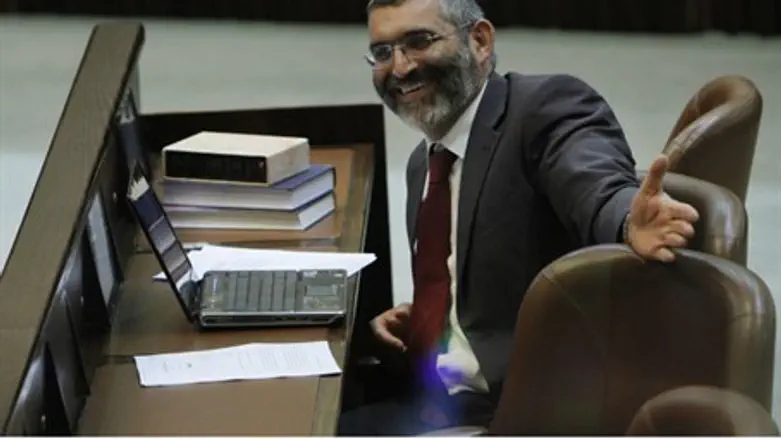 MK Ben-Ari
Arutz Sheva
Despite their image in the public, right-wing politicians are indeed concerned with social issues, a spokesman for an Israeli human rights organization said Sunday.
Oren Ganor, spokesperson for Bizchut, The Israel Human Rights Center for People with Disabilities, told Arutz Sheva on Sunday that while the public perceives right-wing politicians as dealing only with nationalist issues and the left-wing as being concerned with social issues, right-wingers are just as concerned – and sometimes even more so – with social problems.
Bizchut is a non-profit organization committed to advancing the rights of people with physical, developmental and emotional disabilities and enabling their full integration into mainstream society and participation in all areas of life. It is headed by none other than Mossi Raz, a former MK for the leftist Meretz party.
"Bizchut deals mainly with the political arena," Ganor said. "We promote common legislative work with members of the Knesset, and the right-wingers have a respectable place in the various lobbies in the Knesset."
For example, Ganor said, "We are promoting the issue of people with disabilities moving into housing within the [general] community. We produced a document on the rights of the disabled to live within the community and distributed it in front of all the relevant factors, including the 120 Knesset members. The only one who addressed the document was MK Michael Ben-Ari of the National Union, who responded in a practical and positive manner."
Ganor also noted the actions taken by MK Uri Orbach (The Jewish Home) to make monetary bank notes accessible for the blind, the activity by MK Uri Ariel (National Union) for the blind and many others.
"The Right has a prominent place in social issues," he said, adding that although most social organizations are often headed by left-wingers, when they seek the support of the Right they receive it.
Why do people think that only leftists deal with social issues? Ganor said he believes the reason for this is "two-sided comfort" for both the politician and the media.
He explained that for the media it is convenient to label a politician and public figure as working in a certain field, thus giving him an opportunity to speak on these issues. Conversely, it is also convenient for the politician himself to label himself in particular way so he can market himself to the media in a more convenient and clear manner.