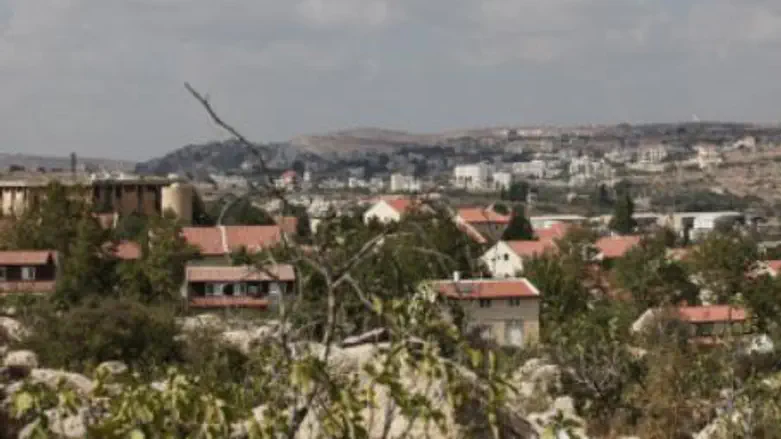 Ofra
Israel news photo: Flash 90
Home Front Defense Minister Matan Vilnai (Independence) addressed in a letter on Wednesday MK Yaakov "Ketzaleh" Katz's (National Union) demand to determine the legal status of 13 Jewish communities in Judea and Samaria, with an emphasis on finally providing zoning plans for these commuinities.
In the letter, Vilnai addressed the situation in the community of Ofra, saying, "A significant part of the community of Ofra is built on private Palestinian land" and adding that as a result "the community does not have an approved jurisdiction."
Vilnai further explained that despite the opinions that were presented to him on the issue, he believes that it would be impossible to further promote construction in the community.  Vilnai's father was Prof. Zev Vilnay, lover of the land of Israel, a pioneer in the sphere of Israeli geography and Land of Israel studies.
Ofra, located on Highway 60 in northern Samaria and approximately 25 kilometers (15.5 miles) north of Jerusalem, has come under fire by extreme leftist organizations and Arabs, who filed a petition with the Supreme Court, claiming that land on which new Jewish houses are built is Arab property. In essence, the petition said the entire town is essentially an "illegal outpost."
Defense Minister Ehud Barak subsequently decided to tell the Supreme Court that he would stop all building in Ofra, but recognize all houses and remove all legal questions while not destroying any houses in dispute. The reason for Barak's decision was reportedly to prevent a confrontation with Ofra, which has grown to a large town of over six hundred families and is considered one of the flagship Jewish communities in Judea and Samaria.
Ofra, twenty minutes north of Jerusalem, is the first community founded in Judea and Samaria after the 1967 Six Day War with full government approval and encouragement.
The latest chapter in the saga was last month, when the Supreme Court issued a temporary restraining order which calls for the stoppage of construction and infrastructure  work on dozens of homes in Ofra.
Unlike Ofra, Vilnai's letter indicated that other communities in Judea and Samaria are on the agenda of the Ministry of Defense, and that fundamental decisions regarding their expansion have already been reached.
Among those communities is Itamar, of which Vilnai said that the Defense Ministry has begun the process of approving "a domain of state land." A recent ruling by the Tel Aviv Magistrate's Court said that there is no excuse for the lack of a zoning plan in Itamar, a fact which prevented the IDF from funding a state-of-the-art security fence,  which could have alerted guards to the terrorists who massacred the Fogel family this year.
Vilnai also addressed the community of Rechelim in his letter, saying that at the present time it is considered an "illegal outpost", but it may receive in the near future the status of a community or a neighborhood within the community of Tapuach.
MK Katz said in response to the letter, "These communities have been in existence for decades, some for most of the history of the State of Israel, and yet parts of them still do not have zoning plans. These communities have provided and still provide the best fighters in the IDF and are top class in all areas of society in the State of Israel.
"Approving the zoning plans is incumbent upon Prime Minister Binyamin Netanyahu and it is he who must explain to future generations why such a shameful situation exists, in which tens of thousands of Jews have lived for decades without proper building permits and why he has not yet found the way to regulate this."
MK Danny Danon (Likud) called on the Netanyahu to issue a government decision to regulate the zoning plans.
"These loyal residents cannot continue to be considered second-class citizens," said Danon.