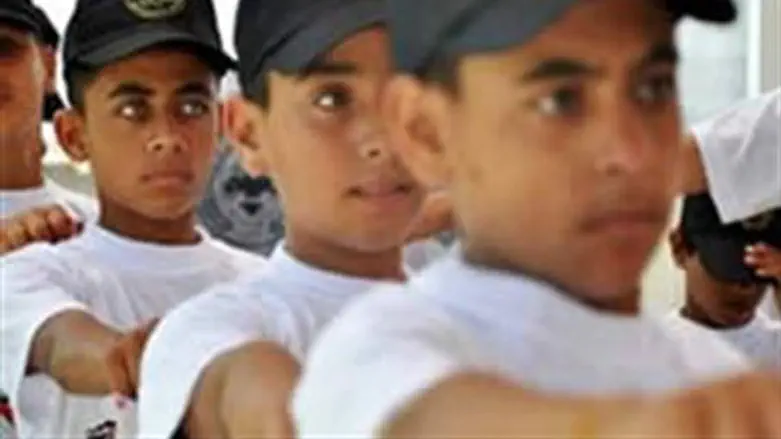 Hamas summer campers
Israel news photo: IDF
The Hamas terrorist organization in Gaza has enlisted and trained a new cadre of elite combatants to carry out its murderous operations against Israel: child soldiers.
Israel's ambassador to the United Nations, Ron Prosor, informed the U.N. Security Council this week that the young terrorists are being trained to murder Jewish children.
Prosor included testimony about the recent horrific Fogel family massacre during a debate entitled "Children in Armed Conflict." Both parents and three young children, including a baby, were slashed to death while they slept in the Jewish town of Itamar by two teenage Palestinian Authority Arabs who confessed to the crime. Neither expressed remorse, and both said they would have murdered the other two children in the house, if had but the time.
Prosor also mentioned other attacks against Israeli children, such as the recent anti-tank missile attack on a school bus near the Gaza border. Sixteen-year-old Daniel Viflic, an American immigrant, was mortally wounded and died shortly after.
"We sustain an average of two attacks a day," Prosor told the Council, noting that 290 missiles and mortar shells have so far been fired at Israeli families by Gaza terrorists this year alone. "This is the daily reality."
The Arab children are trained in numerous ways, conditioned nearly from birth through constant incitement against Jews and Israeli children delivered through PA TV children's programs and other media and regular television "specials", Hamas-sponsored summer camps and school textbooks, as well as the regular fiery messages from the Muslim cleric in the mosque and on televised programs.
"For these children and for the future of our region, I call on the international community to end the culture of incitement," Prosor said.