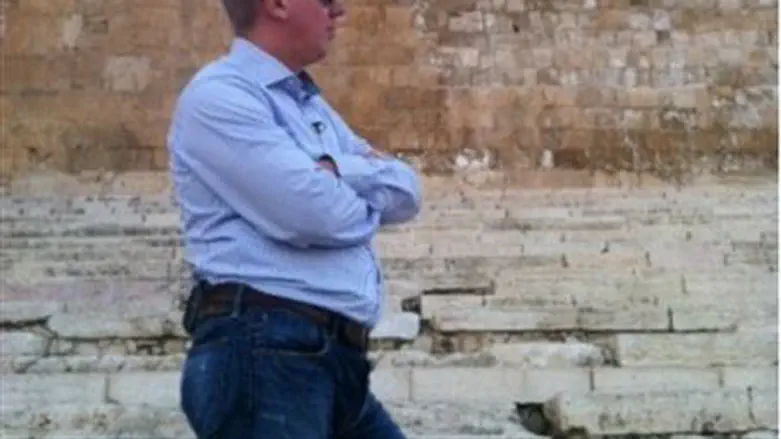 Glenn Beck with kipa at Temple Mount
Israel news photo provided by Fern Sidman
During his upcoming visit to Israel, American broadcaster Glenn Beck will address the delegitimization campaign against Israel and its effects on college campuses in the Diaspora, IsraelNationalNews has learned.
Beck, who arrives in Israel on Monday, will address the Knesset's Immigration, Absorption and Diaspora Affairs Committee and speak about how the international media, with its biased anti-Israel reports, is a factor in the great anti-Semitism in the Diaspora, especially in college campuses.
He is also expected to tell the committee members that the Israeli Government needs to work very closely with media which is pro-Israel in order to stop the delegitimization of Israel.
Beck has been a constant champion of Israel. He visited the Temple Mount earlier this year and has announced a "Restoring Courage" rally in Jerusalem on August 24.
Earlier this week it was reported that Beck, along with MK Danny Danon (Likud), plans to ascend the Temple Mount as part of his visit. Danon is the head of the Knesset's Immigration, Absorption and Diaspora Affairs Committee, and will be co-hosting Beck's visit along with MK Nissim Zeev (Shas).
IsraelNationalNews has also learned that the idea to bring the pro-Israel Beck for a visit to the Holy Land first came up three years ago at the annual Ateret Cohanim dinner, when long-time Zionist activists Dr. Joe Frager and Dr. Paul Brody introduced Beck.
After the introduction, Frager, who is also the long-time organizer of the annual Israel Day concert/rally in New York, suggested bringing Glenn Beck for a visit to Israel.
Frager and Brody, along with Odeleya Jacobs, have worked with several Knesset members on important projects to strengthen Israel's image in the Diaspora and to stop the delegitimization of Israel in the media.
Several months ago, they organized a visit to Israel by Former Arkansas Governor and possible Republican presidential candidate, Mike Huckabee.