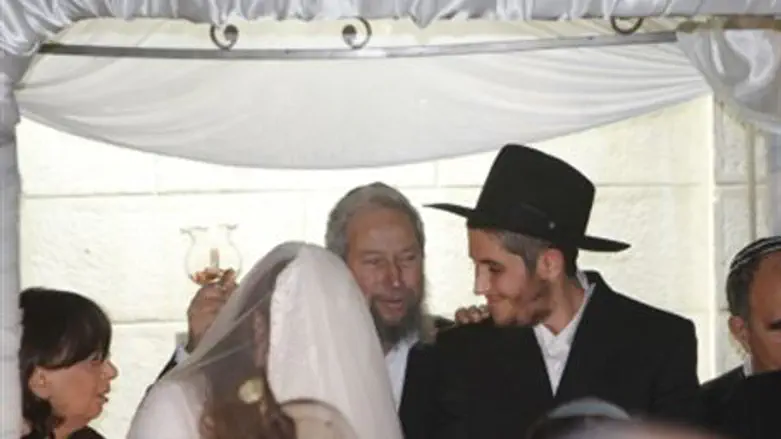 A Jewish wedding.
Israel news photo: Flash 90
It is only in recent years, as opposed to the Diaspora where syngogues are community-oriented,  that the rabbi plays an important role in the lives of the members of the religious community in Israel.  Once only involved in halakhic matters, the Israel rabbi has now become a counselor, providing guidance and assistance for the various problems of his congregation. Rabbis with a primarily yeshiva-oriented educational background lack the professional training and acumen necessary for the role as family counselors, but are increasingly called upon to fill it.

Midreshet Emunah, the National Religious Zionist Women's Organization's Jerusalem-based seminary for training family therapists joined the organizations Family Development Division in order to meet this problem head on and create a unique course for community rabbis, aimed at training rabbis and educators to become professional advisors and counselors on all issues related to family and marriage.

Over the course of two years, the rabbis participated in workshops with leading professionals in the fields of interpersonal relationships, psychpathology, counseling techniques, as well as experiencing hands-on counseling environments under professional tutelage. In Emunah tradition, as is the case in all the fields taught at the Jerusalem Emunah College of Arts and Technology, a special course was developed for familiarization with appropriate halakhic sources that pertain to the subject matter.

The first graduation ceremony took place on Monday, 4.7.2011, under the auspices of the leaders of World Emunah and of the Emunah College.

Mrs. Rina Wasserman, Director of the Emunah  family division, and chairperson of the Council of Women's Organizations in Israel, spoke at the event."The graduates have been given a professional toolbox for use at any time." She mentioned Moses's erroneous usage of his divine staff as he struck the rock, read in last week's Torah portion. "It is necessary to constantly be learning and receiving guidance to insure that the tools remain professional. Lives are at stake."