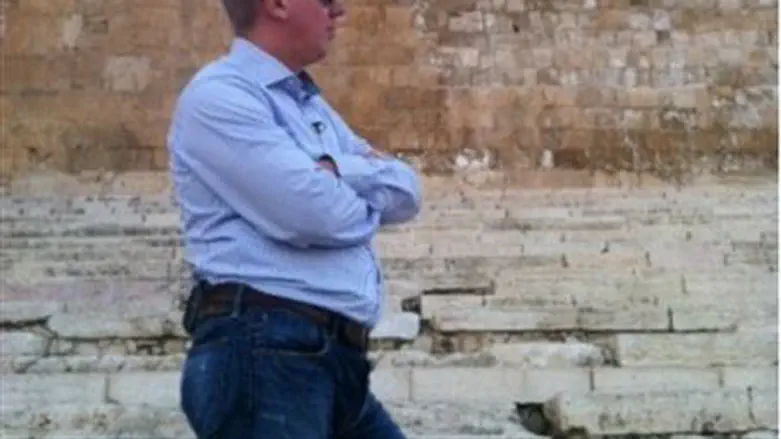 Glenn Beck with kipa at Temple Mount
Israel news photo provided by Fern Sidman
Glenn Beck and Knesset Member Danny Danon plan to ascend the Temple Mount next week. Beck also will speak with a Knesset committee that Danon heads.
Beck will arrive in Israel Monday, an organizer of his visit told Israel National News. He declined to reveal any timetable or details of the visit, but a Knesset source confirmed the visit to the Temple Mount.
Beck will appear at the Knesset Committee on Aliyah to speak about the anti-Israeli effort to present the Jewish state as being illegitimate.
The controversial and fiery personality, who several days ago broadcast his last show on Fox News, has been a constant champion of Israel. He visited the Temple Mount earlier this year and later announced a "Restoring Courage" rally in Jerusalem August 24. After his previous visit to the holy site, he said, "The Temple Mount almost pulsated. I could feel it."
He is hoping for a repeat of last year's massive turnout in Washington for a "Restoring Honor" rally. His web page encourages people to sign up for the tour but warns that the price tag is high. It also states that both American and Israel firms will be deployed to ensure security.
In his announcement of the rally in Israel, he stated, "It is time for us to courageously stand with Israel" and said that high security will be required because "the very gates of hell will open up against us."
Beck added, "The only power broker, the only seat of government that can and will solve this problem with or without us is G-d.  It is time to return inside the walls that surround Jerusalem and stand with people of all faiths, all around the world.
"There are people that will promise you 'peace' in the coming months. They are going to attack the center of our faith; our common faith, and that is Jerusalem, but it won't be with bullets or bombs. It will be with a two-state solution that cuts off Jerusalem; the Old City, from the rest of the world."