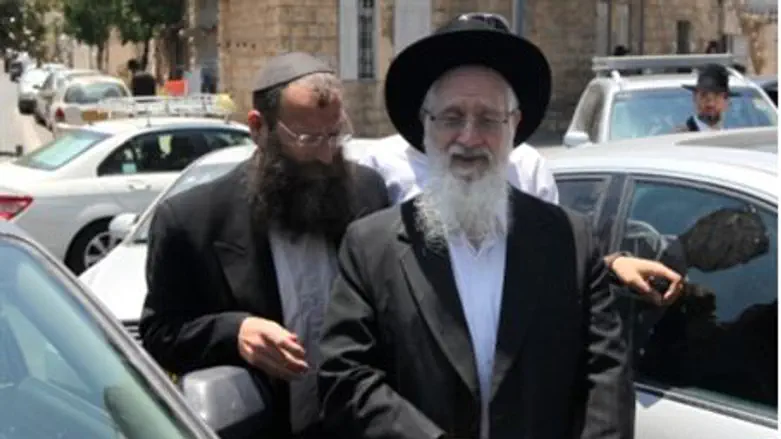 Rabbi Yaakov Yosef
Israel news photo: Flash 90
Thousands of supporters rallied for Rabbi Yaakov Yosef in Jerusalem Sunday afternoon after police interrogated the rabbi earlier in the day over his "haskama" – endorsement – of the Jewish legal scholarship of a book called Torat HaMelech.
Haskama does not necessarily imply endorsement of the opinions expressed by the author, or those expressed by others in the book.
The demonstration, which began at 2:00 pm at the rabbi's home in the Shmuel HaNavi neighborhood, jammed the streets surrounding the area, blocking traffic and making it clear that police had once again crossed a line with the religious public. MKs Yaakov "Ketzaleh" Katz and Michael Ben Ari addressed the crowds.
Hundreds of other demonstrators -- Land of Israel activists -- attempted to block the Tel Aviv-Jerusalem Highway to protest the rabbi's detention. Police employed riot control measures, including water cannons, in an attempt to control and disperse the crowd. Three of the protesters were arrested.
The tome concerns the application of Jewish law to the question of the legal priority of Jewish soldiers' lives versus the legal importance of killing of enemy civilians in time of war.
Police said they detained the rabbi after he refused to answer a summons to appear for questioning months ago.
The rabbi's son denied the claim. He added that his father agreed to be taken into custody for questioning. Rabbi Yosef asked authorities why they acted against a Knesset decision that the laws involved do not apply to religious texts.
Last week police similarly questioned Rabbi Dov Lior, Chief Rabbi of Kiryat Arba / Hevron, after stopping his car inside a tunnel leading to Jerusalem as he was driving to a rabbinical meeting in the Binyamin region.