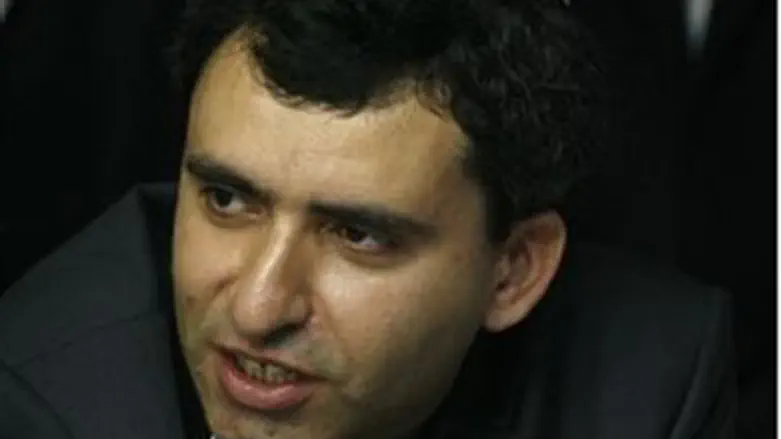 MK Elkin
Israel news photo: Flash 90
MK Ze'ev Elkin (Likud), coalition chairman and head of the Knesset's Israel Lobby, visited on Thursday Rabbi Dov Lior in his home in Kiryat Arba. The purpose of Elkin's visit was to strengthen the rabbi following his arrest and interrogation earlier this week.
In a conversation with Arutz Sheva's Hebrew website following the visit, Elkin said, "The interrogation was unnecessary and ridiculous. There is no room for such an arrest, certainly not of a rabbi."
Elkin added: "A James Bond-style arrest such as this required me to come strengthen the rabbi, but ultimately it was I who was strengthened."
He said that during the meeting, "Rabbi Lior spoke well of the State of Israel and reinforced the need to respect the State's institutions and to serve in the IDF."
The reason for Rabbi Lior's arrest was a controversial book, Torat Hamelech. The book discusses the theoretical attitude of Jewish Law toward killing a non-Jew in wartime and the dilemma when there is a choice between saving Jewish soldiers or enemy civilian lives. The book has no operative aspect.
Rabbi Lior had given a "haskama" (rabbinical approbation) to the book. A "haskama" is found at the beginning of many Judaic works and signifies that the rabbi who read it testifies to the Halakhic coherence and accuracy of the writing. Authors attempt to get "haskamot" from famous rabbis for that reason.
The police had sought to question Rabbi Lior over his approbation to the book and issued an arrest warrant after he did not report for questioning. His arrest earlier in the week was met with protests, not just because of the reason for the arrest, but also because police had essentially ambushed him and arrested him as he was driving on the Gush Etzion tunnel road.
In an earlier interview on Wednesday, Elkin told Arutz Sheva: "There is no dispute that everyone is equal under the law, but often law enforcement does stupid things. The idea to investigate this issue was very strange. What's there to investigate? An approbation given to a religious book? Anyone who understands what a rabbinic haskama is understands that this is ridiculous.
"Perhaps there are laws that refer to opinions but we have not seen the people in mosques who incite to action being prosecuted," said Elkin. "This was a strange decision by the police, to investigate the author of the book as well as those who gave approbations. It was a ridiculous decision."