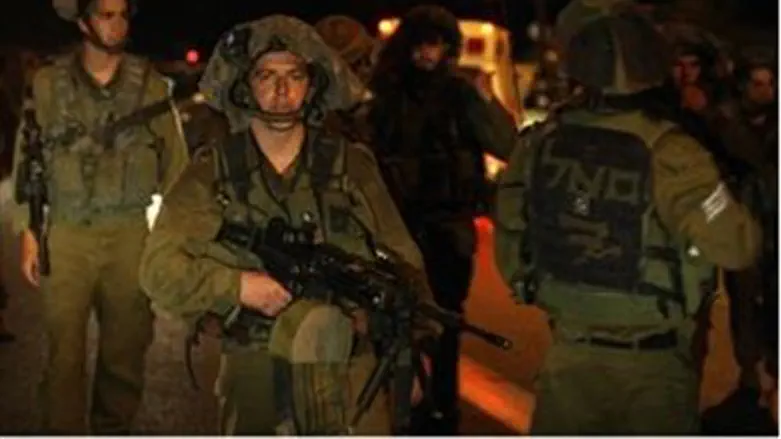 IDF soldiers
Israel news photo: IDF
Four members of the Hamas terrorist organization, including a member of the Palestinian Authority legislative body, were arrested Tuesday by Israeli soldiers. Three of the four were arrested in the PA-controlled Samaria city of Shechem. 
Al Quds TV journalist Nawaf al-Amer, 37, was arrested at his home in Kafr Qallil, according to the Bethlehem-based Ma'an news service. Al-Amer is the coordinator at the Hamas-affiliated satellite TV station.
Firas Jarrar, a Hamas supporter, was arrested at his home in Shechem, and Fuad Khafash, director of the Ahrar Center and former director of the bureau of former Minister of Prisoners Affairs Wasfi Qabahi, detained a few weeks earlier, was picked up in Rafidia, west of Shechem.
Hamas MP Nasser Abdel Jawwad was arrested simultaneously in Deir Ballut, a village outside of the Shechem suburb of Salfit, some 15 kilometers (nine miles) south of the city, the AFP news agency reported.
"Abduction of lawmakers is continuation of a plan to assassinate the Palestinian people," complained Hamas in a statement released by the terrorist group's lawmakers.
Over the past eight months, Israel has detained 14 Hamas legislators, including seven who were picked up since the terror group was welcomed back into the Ramallah-based PA government led by the Fatah faction. The two rival factions, Fatah and Hamas, signed a reconciliation agreement on May 3.
This is not the first time such a deal has been reached between the two factions. In February 2007, Fatah and Hamas agreed to form a unity government that ended in a bloody militia war almost as soon as it began. 
The deal came eight months after Gaza-based Hamas terrorists joined operatives from the Al Qaeda-linked Army of Islam and the Popular Resistance Committees in a raid on an IDF outpost that resulted in the June 2006 kidnapping of IDF soldier Gilad Shalit.
The young soldier, now age 24 if he is still alive, is still being held captive by Hamas. His condition and whereabouts are unknown, although it is believed that he is still alive and being held in Gaza.
By June 2007, Hamas had routed Fatah and gained a stranglehold over Gaza, leading Fatah to request more arms from the United States to replace those lost to Hamas during the militia war between the two PA factions.