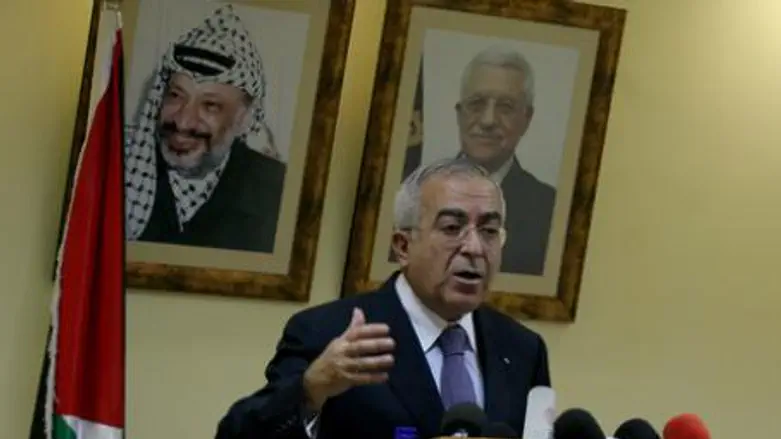 PA Prime Minister Salam Fayyad
Israel news photo: Flash 90
Palestinian Authority Prime Minister Salam Fayyad admitted Tuesday that United Nations recognition of a PA state would basically change nothing.
Such recognition, he said, would not change the fact of Israeli "occupation," he said in an interview this week with the Associated Press, making such a victory symbolic and nothing more.
"It is not going to be a dramatic result," Fayyad said. Little will actually change, even if the PA is recognized in the U.N. General Assembly as a new Arab country, he explained. "Unless Israel is part of that consensus, it won't – because to me, it is about ending Israeli occupation."
Fayyad has recently been striving to lower expectations on the Palestinian Authority street in anticipation of the September 20 vote. He and others are becoming increasingly concerned with what may follow the vote.
It is unlikely the U.N. Security Council will approve membership of the PA as a new Arab country in the international body. If, as expected, the U.S. vetoes such a move, the PA would hope to persuade America to reverse its position following recognition by the U.N. General Assembly, pointing out the powerful numbers and the broad range of international support for its cause.
Years of incitement against Israel, and repeated exhortations and promises by PA leaders, have built up the expectations of grassroots Arabs on the PA street. Such a disappointment may result in the kind of frustration that could lead to a massive 'Arab Spring'-type revolt or ignite a region-wide war.
Fayyad The Man to Blame
Ironically, it was Fayyad himself who first called for creation of a PA state in a speech delivered two years ago at the Al Quds University in Jerusalem.
By August 2009, he had already set into motion plans for the infrastructure and economy for the new country he envisioned in Judea, Samaria and Jerusalem. The plans called for an international airport in the Jordan Valley, foreign investors and stronger armed forces. Now, two years later, two out of the three points have been accomplished with generous support from the United States and the European Union.
By December 2010, Fayyad again confirmed to reporters that he remained fixed on the August 2011 deadling for declaring the PA as an independent sovereign entity if no final status agreement with Israel had been reached.