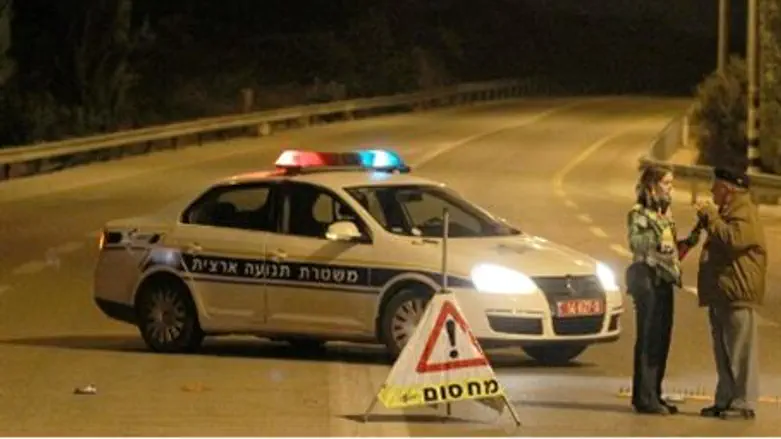 Police block road during manhunt
Israel news photo: Flash 90
An Arab assailant beat a 40-year-old man with a hammer and sprayed tear gas at a cab driver Monday at about 5:00 p.m. in Be'er Sheva, in what appears to have been a terror attack.
The two victims were not related, nor were they attacked in the same exact location, although both attacks were carried out near the Be'er Sheva Municipality building.
One of the victims was moderately injured and the other was lightly injured. Both were hospitalized at Soroka Medical Center.
"We believe the attacker was acting on nationalistic motives," said Israel Police spokesman Micky Rosenfeld. He also told Israel National News that although the perpetrator was of Arab descent, it is not yet clear from which Arab population the perpetrator comes. There are a number of different Arab ethnic populations in Israel, and nearly all of them travel through Be'er Sheva, which serves as a major transporation hub connecting the south with the rest of the country.
Police immediately threw a dragnet around the city, Rosenfeld said, with numerous units combing the area in search of the suspect.
"We are using helicopters, Border Police, undercover personnel, regular police officers... numerous units are out there searching for the attacker. The entire area is covered."
Not the First Terror Attack
There have been a number of terrorist attacks and attempted attacks carried out in Be'er Sheva in the past decade.
A terrorist who attempted a suicide bombing in Be'er Sheva in 2007 never got that far; the attack was foiled by intelligence agents shortly before it was to be carried out.
A suicide bomber who was freed from Israeli prison blew himself up at the city's Central Bus Station on August 28, 2005, seriously wounding two security guards who stopped him from boarding a bus and doing far more damage. More than 50 others were also wounded.
On August 31, 2004, a double suicide bombing on two city buses near the Be'er Sheva Municipality building left 16 dead and more than 100 injured.
In addition, a would-be female terrorist from Gaza was caught in June 2005 at the Erez Crossing with "explosive pants" hoping to blow herself up at Soroka Medical Center, where she had received intensive medical care and was nursed back to health. She told her interrogators she was hoping to kill at least 50 people, including women and children.