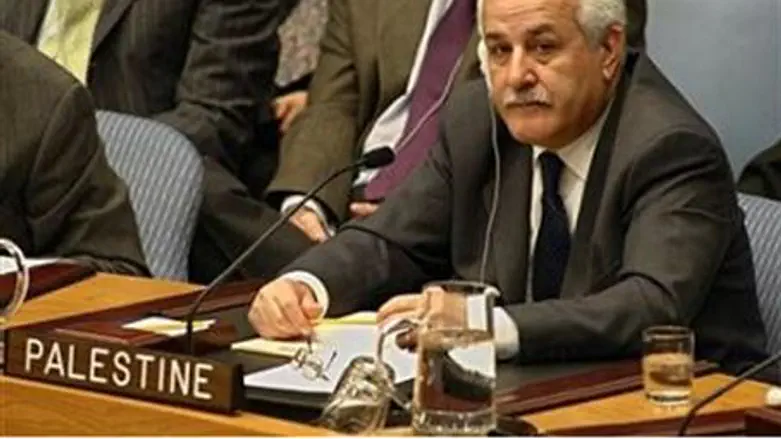 Riyad Mansour
UN Multimedia
The Palestinian Authority will seek United Nations recognition for statehood in September even if peace negotiations with Israel are under way, a senior PA diplomat said Thursday.
Riyad Mansour, the PA envoy to the United Nations, said the PA was simultaneously pursuing three independent tracks: restarting negotiations, building institutions for an independent state, and gaining recognition for statehood.
"If we succeed in opening the door for negotiations, we're not going to stop from attaining what belongs to us as Palestinians in this General Assembly starting on September 20," Mansour insisted.
American and European efforts to restart Israeli-PA negotiations have been specifically intended to avert the PA's United Nations statehood bid, which they say is counter-productive.
"Unlike the construction in the West Bank, which is an illegal unilateral act, declaring a state is a given right which is not considered unilateral," Mansour insisted.
Israel "did not ask permission to declare a state in 1948, the US did not ask the British for permission to declare a state in 1776. Our declaration of state in a natural right and not a unilateral act," he said.
"Our independence is not one of the core issues," Mansour said.
Mansour's comments were made shortly after PA chairman Mahmoud Abbas said he was willing to 'tolerate' limited Israeli construction in Judea, Samaria, and eastern Jerusalem in order to restart negotiations. Abbas has also demanded the release of terror-prisoners in Israeli jails before returning to the negotiating table.
Israeli Foreign Minister Avigdor Liberman previously stated a unilateral declaration of PA statehood would render the Oslo Accords null and void.
The 1993 Oslo Accords, which serve as the basis of Israeli recognition of, and all cooperation with, the PA, contain the express understanding that an independent PA state would only be attained through bilateral negotiations and that any statehood moves outside that framework were proscribed.
Mansour added that the PA was trying to thwart Israel's efforts to convince European countries to oppose its September statehood bid, saying that the PA will ask those countries to recognize a PA state using the 1967 lines.
"The Netanyahu government is a radical government which does not reflect the position of the Israeli public. We are facing an historic moment, but the Israeli leaders are living in the past – they think they can prove everyone wrong," Mansour said.
Recent polls indicate the vast majority of Jewish Israelis do not believe negotiations with the PA are in Israel's interests at this time due to the PA's inclusion of Hamas in government and its unilateral statehood bid at the United Nations.