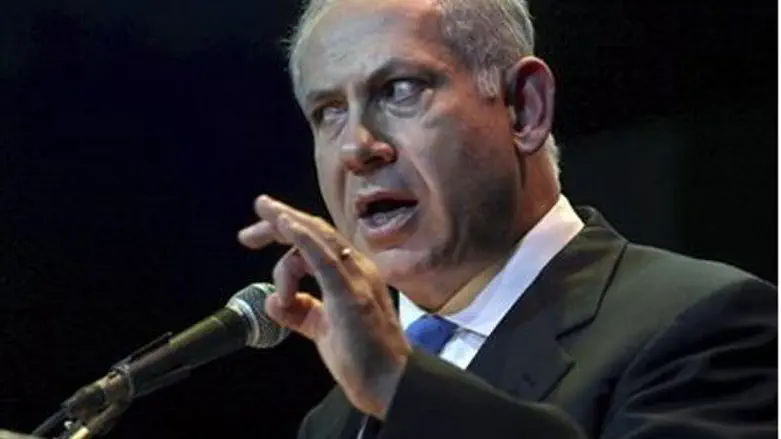 Binyamin Netanyahu
Flash 90
Prime Minister Binyamin Netanyahu on Thursday said an end to the Israeli-Arab conflict would come when Palestinian Authority chairman Mahmoud Abbas recognizes Israel as a Jewish State.
"I will accept a Jewish state," Netanyahu said demonstratively during his closing remarks at the Israeli Presidents Conference in Jerusalem.
Netanyahu's remarks come the day after Abbas indicated he was willing to soften his position on Israeli construction in Judea, Samaria, and eastern Jerusalem as a precondition to talks and would, in his words, "tolerate" only a "limited building freeze."
The remarks also precede the arrival of Quartet envoys in Brussels to discuss potential ways to restart the Israeli-Arab diplomatic process.
Netanyahu also said peace had eluded the two sides for 90 years because the 'Palestinians' never accepted Israel's existence in the region, within any borders.
Recognition of Israel as a Jewish state before territorial discussions begin has been a major plank of Netanyahu's five-point platform for concluding an Israeli-PA settlement.
Noting he previously accepted the idea of a PA state in his Bar Ilan speech in 2009, Netanyahu said, "Now I say... Abbas must do what I did two years ago: he must stand up to his people and say, 'I will accept the Jewish state.'"
Referring to frequent PA dismissals of his position saying Israel can "call itself whatever it wants," Netanyahu stressed the issue was not over what it calls itself, but rather over what it is.
"They can call their state Palestine or Arafatland," Netanyahu said in return. "I'm not talking about what they call it; but what it is. For them, it is the nation state of the Palestinian people. Israel is the nation state of the Jewish people. This means that the Palestinians go there, and Jews come here."
Netanyahu said recognizing Israel as a Jewish state in no way impinges on the rights of Israeli Arabs, but that a two-state solution must end any hope of further subdividing the Jewish state and calls for a "sub-state" for Arabs in areas like the Negev or Galilee.
Speaking to the World Zionist Organization later that evening, Netanyahu said that Theodor Herzl and the Zionist vision spoke of settlement and development of the Jewish state in all parts of Israel.
"We are settling and developing the land – it is possible to see towns in Ariel, Maale Adumim and Gush Etzion. But we are also obligated to develop all parts of the country – the Galilee and the Negev," Netanyahu said.