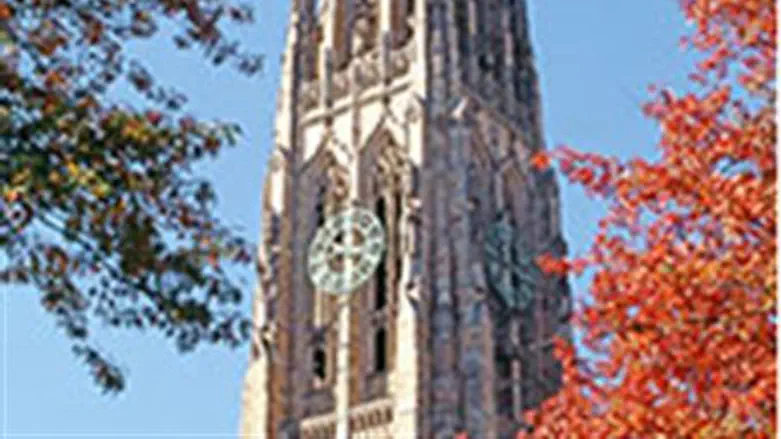 Harkness Hall, Yale U.
Yale U.
In a sudden reversal of its previous decision, the provost of Yale University has announced the re-establishment of the interdisciplinary program on the study of anti-Semitism. Provost Peter Salovey, Chris Argyris Professor of Psychology at Yale, said in a letter dated June 19th that, "I have been gratified to learn that Professor Maurice Samuels and a group of faculty colleagues have expressed interest in the creation of a new scholarly enterprise, the Yale Program for the Study of Anti-Semitism (YPSA), and that the Whitney Humanities Center has agreed to sponsor it."
Earlier this month, Yale Professor Donald Green, Director of the Institution for Social and Policy Studies, said that upon a faculty review, the university would be terminating the Yale Initiative for the Interdisciplinary Study of Anti-Semitism (YIISA) because the program was allegedly "generating little scholarly work that earned publication in highly regarded journals, and its courses attracted few students."
These charges were vigorously disputed by a plethora of academics, Jewish leaders and journalists who ascribed political motivation as the prominent factor in Yale's decision to shut down the program. Referencing the 2010 YIISA sponsored conference entitled, "Global Anti-Semitism: A Crisis of Modernity" that focused on the virulent nature of Islamic anti-Semitism,  Abby Wisse Schachter said in an op-ed piece that appeared in the New York Post that studying "Christian anti-Semitism is fine; political Jew-hatred, like communist or fascist anti-Semitism, no problem. But get anywhere near Muslim or Middle Eastern anti-Semitism, as presenters at YIISA's conference did last year, and you've crossed the line."
In January 2010, Iran announced that it was instituting a boycott of 60 institutions and Yale was among them. Although the regime did not explain the reason for the boycott, university officials attributed Tehran's decision to YIISA's activities in spotlighting the regime's role in promoting genocidal anti-Semitism. Due to the boycott, Yale professors involved in research in Iran were forced to end their activities. These professors reportedly blamed YIISA rather than Iran for the cancellation of their research projects
Founded in 2006 by renowned sociologist Charles Small, YIISA was the largest research unit in North America devoted to a nuanced exploration of anti-Semitism in its various incarnations with a focus on its urgent contemporary significance. Its clearly defined stated mission was "to explore this subject matter in a comprehensive, interdisciplinary framework from an array of approaches and perspectives as well as regional contexts."
Professor Salovey also said in his letter that, "YPSA will encourage serious scholarly discourse and collaborative research focused on anti-Semitism, one of the world's oldest and most enduring prejudices, in all of its forms" and added that it is his hope that "this program will produce major scholarship on the vitally important subject of anti-Semitism and will be open to the entire Yale community."
According to Salovey's letter, Professor Maurice Samuels has written an award winning book on Jewish fiction writers in France and is currently working on a major study of the portrayal of Jews in French literature and culture from the time of the Revolution through the present. Professor Samuels has also taught such undergraduate classes entitled "Jewish Identity and French Culture" and "Representing the Holocaust".
The letter also indicated that Professor Samuels and his colleagues will bring in visiting speakers who have expertise that is relevant to the group's evolving interests, and will host multidisciplinary research conferences and reading groups.
It was not stated whether Yale's decision to re-establish a scholarly program on the study of anti-Semitism was predicated upon the flurry of protests and the growing number of negative op-ed articles written by political commentators, distinguished professors and academics over the closing of YIISA.