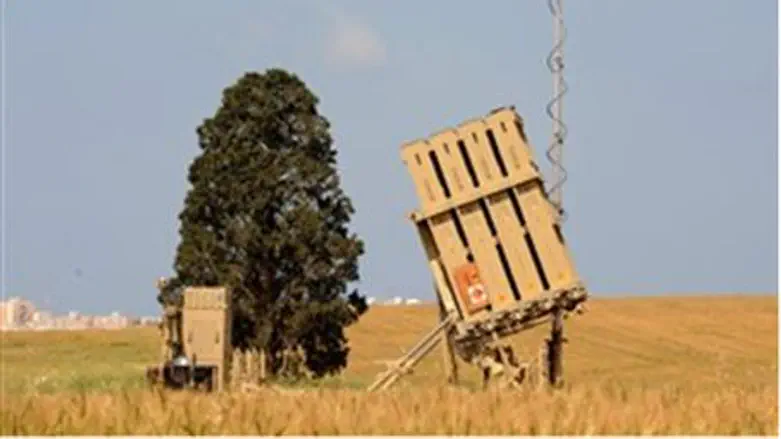 Iron Dome
Israel news photo: Flash 90
Defense Minister Ehud Barak vowed Monday to provide the entire State of Israel with the Iron Dome system's anti-missile coverage, and that of a second system, Magic Wand. He said the first system could be fully deployed in 2.5 years, and the second in 5 years' time.
Speaking after the inauguration in Paris of Israel's booth at the Le Bourget Air Show, Barak said: "Lately we saw the accomplishments of Iron Dome in intercepting rockets from Gaza – an exceptional achievement of Israel's defense industries."
"I intend to initiate a national emergency program that will lead to the deployment of Iron Dome and Magic Wand over the entire state," he announced. "Iron Dome can be completed and deployed across the entire country in about two and a half years, and Magic Wand in five years at the most."
"The overall situation as regards defending the Home Front and the country's citizens during times of emergency will change as a result of this deployment, deeply and fundamentally."
The Iron Dome system is intended for interception of short-range missiles, such as the Kassam, and
has been proven successful
in shooting down terrorist 'Grad' Katyusha missiles fired from Gaza this year. The Magic Wand is
intended against medium range missiles
 such as those Hizbullah might fire at central Israel from Lebanon. 
A third system, the Arrow, is intended against ballistic missiles such as the Syrian Scud and the Iranian Shahab, with ranges of hundreds of kilometers. It has already been deployed in two batteries and
a third may already be operational
.