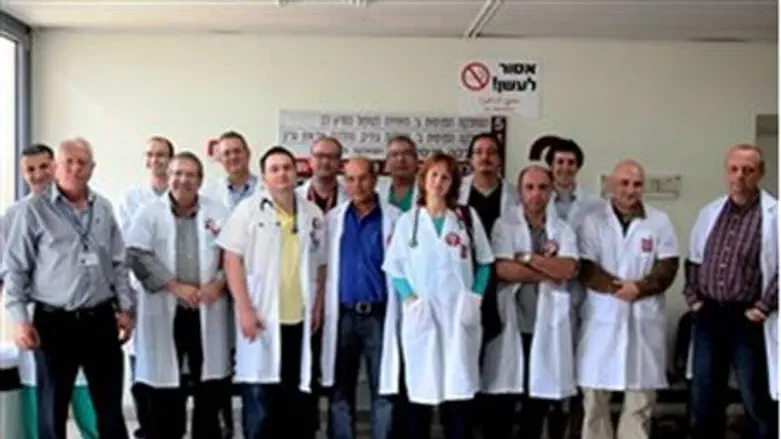 Doctors with demands
Israel news photo: Flash 90
Hospitals and medical clinics around the country are on a part-time Sabbath schedule, as the doctors' near-strike climbs a notch.
Included in the work sanctions are psychiatric and geriatric hospitals. The doctors plan to shut down another aspect of medical treatment each day this week.
On Tuesday, for instance, only urgent operations will be carried out, and on Wednesday, outpatient clinics will be closed to the public.
Though talks last night between the Finance Ministry and the doctors were unsuccessful, a Finance Ministry official says that some progress has been made over the past few days. Moshe Bar-Simantov, Deputy Budgets Commissioner, says that both sides agree that the main challenge is how to ease the doctors' work load, and that once this is solved, it will be easier to deal with the other issues in dispute.
Medical Union Chairman Leonid Edelman said today that the doctors do not accept the Finance/Health Ministries' proposal regarding the amount of doctors' positions to be added in order to lessen the specialists' work loads.
The doctors first announced their struggle over conditions and salaries three months ago.
Prof. Arnon Afek, Deputy Head of Sheba Hospital in Tel HaShomer, told Army Radio, "We are working to minimize the harm done to the patients, and that's why we're allowing urgent operations and the opening of emergency rooms. But medicine in Israel is deteriorating, and that is more important than the price of cottage cheese. We apologize for the sorrow being caused, but we hope there will be positive results in the end."