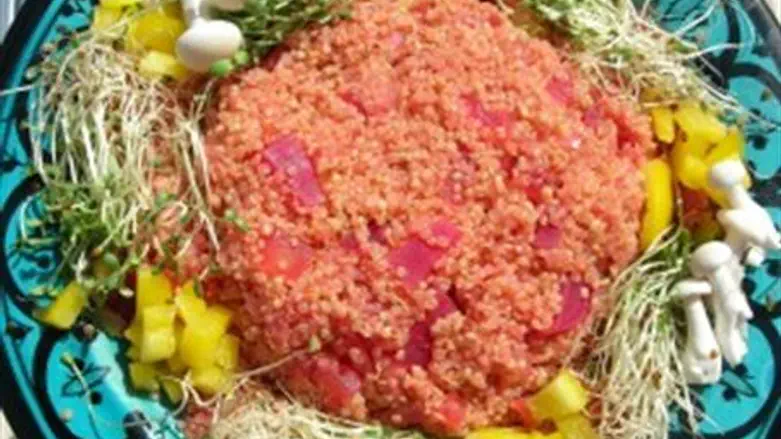 Pink and Purple Kinoa
Just Add Flax
Summer brings out the more relaxed and playfull side of our nature. Cooking with summer's fruits and vegetables is not only good for our health, it also enhances the beauty of our table. This is a quick recipe, 5 minutes of preparation time, 15 minutes of cooking time. The sweetness of the beets and the berries balance the bitterness of the quinoa.  Even people (read: my kids) who have sworn off quinoa like this recipe.
Gozi berries are the latest fad in weight loss. Gozi berries have a high glycemic index which means that they raise your sugar level and keep it a high level for a relatively longer period of time than, say, chocolate cake. Does this mean that you'll lose weight? 
That's up to you. If you eat gozi berries and also eat chocolate cake, then I'm going to have to say "not", but the gozi berries might stop you from wanting to eat the cake by making you think that you are not so hungry. As for myself, I don't really need to be hungry to eat chocolate cake, but it is certainly worth a try.
Gozi berries are also slightly sour in flavor which means that they have a cleansing effect on the liver. Overall, while they don't make the Top Ten Food List, they are still on my blog (the chocolate cake remains disappointed).
If you don't have or want to find gozi berries then substitute for them with cranberries or raisins.
Ingredients:
olive oil
1 onion, chopped
1 large beet, chopped
1 tsp pomegranate concentrate
2 cups quinoa, rinsed
4 cups water
1 tsp gozi berries
juice of 1/2 lemon
1/2 tsp turmeric
salt and pepper
Garnish:
yellow pepper, chopped
broccoli sprouts
shang mei mushrooms
Heat the olive oil in a 2 liter pot. Add the onion and saute for 3 minutes, add the beets and spices and saute for 3 more minutes. Add the water and the lemon juice and simmer for 10 minutes. Add the quinoa and the gozi berries and simmer until the water is almost completely absorbed. (About 10 minutes.) Remove from the flame, stir, and allow to stand covered for an additional 5 minutes.
Garnish with broccoli sprouts, shang mei mushrooms and yellow pepper
Serve warm. Serves 4-6
Enjoy!