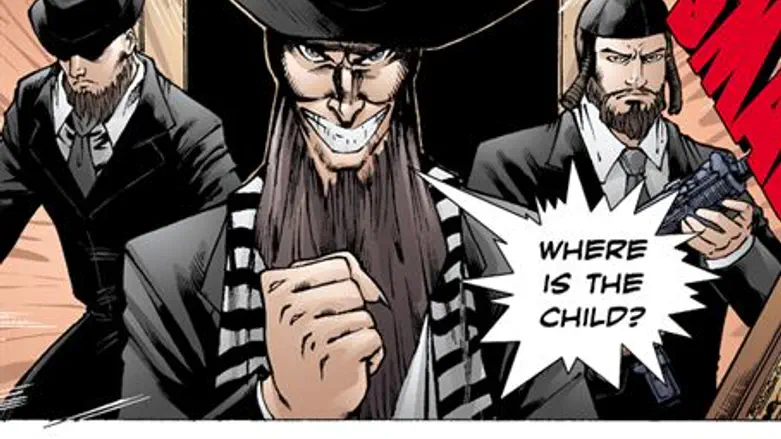 The Monster Mohel from the comic
Foreskin Man
The controversy on banning circumcision in San Francisco moved on to stereotypic anti-Semitism as a promoter of the ban  distributed a technologically modern, but all-too reminiscent of medieval, Nazi and Tsarist Jew-hatred, comic that seeks to delegitimize the circumcision procedure.
The comic is entitled "Foreskin Man" and its hero is shown as he attempts to stop circumcisions from taking place. He is described as "an 'intactivist' superhero who rescues innocent boys from the clutches of the world's cleverest and most dangerous circumcisers."
Its second issue features an anti-Semitic story in which Foreskin Man attempts to stop a "Monster Mohel" from performing a circumcision during a Brit Mila ceremony.
Circumcision is a Torah commandment which says that Jewish fathers must circumcize their male infants on the eighth day after birth. Circumcision is postponed if a baby is underweight, has high bilirubin count or any other medical problem, but is a basic sign of the covenant between G-d and the Jews, the Torah says. It has always been the symbol of belonging to the Jewish people, often called the People of the Covenant.    
The Foreskin Man comic was produced and put out by Matthew Hess, who is one of the central backers of the anti-circumcision measures.
A few weeks ago it was reported that the backers secured enough signatures to force a referendum on banning circumcision in the city. The central activist, Lloyd Schofield, is calling his proposed referendum the "Male Genital Mutilation bill."
It takes only 7,168 people to force a referendum vote in the city of San Francisco, whose population is more than 750,000. If Schofield's initiative is passed, it would forbid circumcision among males under the age of 18, and anyone found violating the law would face a fine of $1,000 or a year in jail.
The move was met with criticism by rabbis, doctors, and others who oppose the idea to ban circumcision, with the doctors citing its benefits in preventing infection and the spread of AIDS.
"For a city that's renowned for being progressive and open-minded, to even have to consider such an intolerant proposition ... it sets a dangerous precedent for all cities and states," Rabbi Gil Yosef Leeds of Berkeley told The New York Times.
The newspaper quoted  Dr. Laurence Baskin, chief of pediatric urology at San Francisco's Benioff Children's Hospital, as saying that the referendum proposal "is a bunch of nonsense" and "would never pass the First Amendment test," guaranteeing basic freedoms, including that of religion.
Meanwhile, The Jewish Journal reported on Wednesday that Jewish Congressman Brad Sherman has announced he is preparing to introduce a bill in congress that would prevent municipalities nationwide from enacting laws banning circumcision.
Sherman's bill, called the Religious and Parental Rights Defense Act of 2011, will ensure that Jewish and Muslim families will be able to enjoy the free exercise of their religious beliefs.
Sherman was quoted as saying, "This could happen in any city. This ought to be stopped statewide and it ought to be stopped nationwide."
The Journal also reported that California State Assemblyman Mike Gatto will begin the process of introducing similar legislation in Sacramento. According to the report, it was a conversation with Sherman which caused Gatto, who has represented the Los Angeles-area 43rd district for just over a year, to join the fray over circumcision at the state level and attempt to prevent cities in California from banning the practice.
Gatto, who is Christian, told The Journal that "there are a lot of Christians, too, who believe that circumcision dates back to the origins of our faith."
Both Sherman and Gatto commented on the Foreskin Man comic, with Gatto saying, "I had to rub my eyes and tell myself that it was 2011, and tell myself that this was not something being put out in 1905."
Sherman was quoted as calling the comic "outrageous".
Meanwhile, the Committee for Parental Choice and Religious Freedom, a new coalition spearheaded by the Jewish Community Relations Council (JCRC) in the San Francisco Bay Area, is ramping up its efforts to convince San Francisco voters to reject the proposed ban.
All 11 members of San Francisco's City and County Board of Supervisors have joined the coalition, reported The Journal, as well as two dozen prominent doctors and many local and national civic and religious leaders.
One official who joined the coalition is the mayor of Santa Monica where, according to a report by the Jewish Telegraphic Agency, an attempt to put a circumcision ban on the ballot has been dropped.
Banning circumcision has been a much-attempted anti-Jewish measure throughout Jewish history, with the most well known example going back to the Greeks, glorifiers of the human body, and possibly the first "intactivists".  It was King Antiochus of Greece whose legislation against circumcision and other Jewish laws inspired the Maccabean revolt leading to the Hannukah victory. More recently, Communist Russia outlawed circumcision and many Jews carried out the commandment in secret at great risk, with others asking to undergo circumcisions as adults when Communism fell and they arrived in Israel.