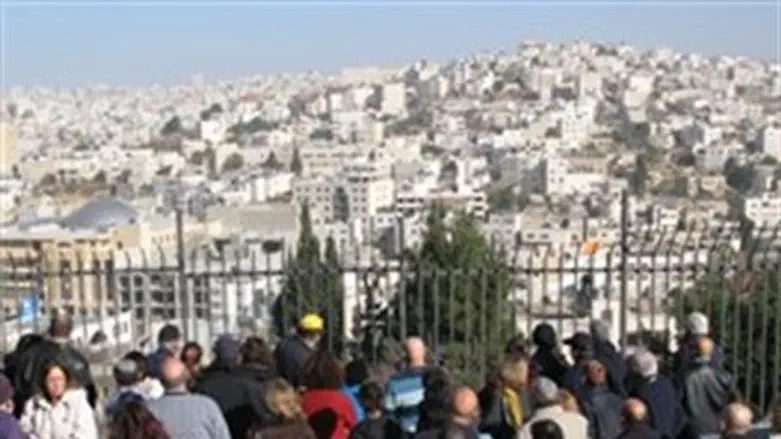 Overlooking Hevron
Israel news photo: Nevo Katz
The status quo – no Arab traffic allowed – will be perpetuated on the only Jewish thoroughfare in the City of the Patriarchs, the Supreme Court has ruled.
Seven years of court wrangling, including the combining of three court suits into one, have come to an end – with a ruling by Chief Justice Dorit Beinisch rejecting the requests to allow Arab vehicular traffic on King David St. in Hevron.
The street in question runs through the Jewish neighborhoods in Hevron - from the Machpelah Cave, past Gross Square, towards the Shavei Hevron yeshiva, past Beit Hadassah and other Jewish buildings, and all the way to the ascent to Admot Yishai (Tel Romeida).
Left-wing and Arab groups filed three petitions in recent years, demanding that the road be opened to Arab traffic. The army, however, maintained that this would gravely compromise the security of the Jewish residents and visitors in the area.
The High Court's decision to accept the IDF position is "definitely a happy piece of news," a spokesman for the Jewish Community of Hevron stated, "in that even the Supreme Court recognizes the right of Jews to live safely in King David's city."
King David ruled the first Jewish commonwealth from the city of Hevron for over seven years before moving the capital to Jerusalem.
Hevron spokesmen emphasize that over 97% of the city is totally closed to Jews, while the Arabs have full or partial rights in the entire city. Only in 3% of the city do Jewish rights take priority over those of Arabs.
Hevron resident Orit Strook, head of the Hevron Jewish Community's legal affairs department, said, "The decision was announced at a symbolic time – the eve of the Shavuot holiday, the holiday of King David [who died on this date – ed.]. It was announced seven years after the suit was first filed, the same amount of time that he reigned here…"
"We are pleased," she continued, "that even the Arab lawyer called the street by its rightful name, King David St. [and not Shuhada, as it is known in Arabic]… We hope that soon, other roads in the city will be freely opened to Jews in the city, and that restrictions will apply only to the aggressor, and not the side that is attacked, as is the case now."
Yesterday (Wednesday), on the Shavuot holiday, thousands of Jews walked safely along King David St. towards the graves of David's father Jesse and his great-grandmother Ruth, where they festively read aloud the Book of Ruth, according to  Shavuot holiday custom.