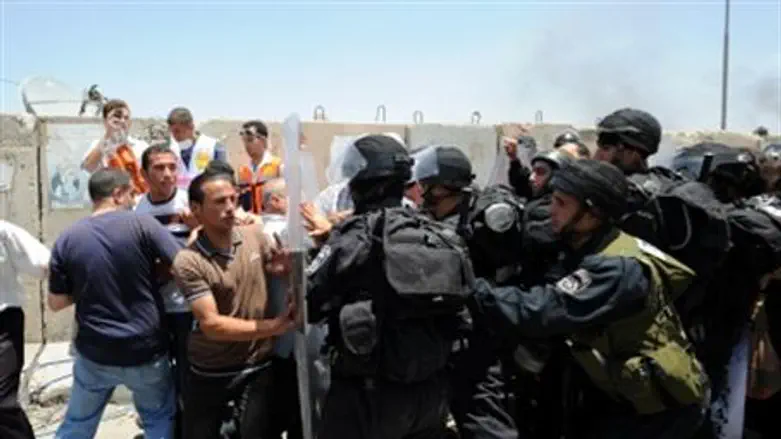 Kalandiya, 5.6.11
Israel news photo: Flash 90
Border Police blocked an attempt by hundreds of Arabs to march into Jerusalem Sunday. The police used stun grenades and tear gas to disperse the march, near the Kalandiya checkpoint north of Jerusalem.
Stymied in their original plan, the Arabs proceeded to burn tires and hurl rocks at police (see photos below).
The march was part of the rioting marking 44 years since the Arab armies' ignominious defeat at the hands of the IDF in the Six Day War.
In Samaria, hundreds of Arabs and their leftist sympathizers tried to burn down a memorial for a fallen IDF soldier.
The Arabs and leftists held a rally at a school which was illegally constructed within the municipal zone of Elon Moreh. They then marched toward Ein Kfir, where they tried to vandalize a memorial for fallen IDF soldier Kfir Hezy. Hezy, a resident of Elon Moreh, was killed in southern Lebanon in 1997.
Residents of Elon Moreh constructed a pool next to a natural spring and named it after Hezy. 
The Arabs and the leftists lit tires in the memorial but IDF soldiers dispersed them before they could do any serious damage to the site.
Arabs call the anniversary of their defeat 'Naksa Day'. The term means "small setback" and was first used by Gamal Abdel Nasser, the Egyptian dictator who boasted he would annihilate Israel before he was trounced by the IDF. Nasser tried to use this terminology to downplay the defeat of his army, along with those of Jordan and Syria.
Most Israelis were not aware of the term until this year, when
Arabs used the day
as a pretext for riots. Goaded on by 
New York Times
columnist 
Thomas Friedman
, among others, they hope to score a PR victory against Israel through violent riots which are billed as "nonviolent."  
Photos by Flash 90: