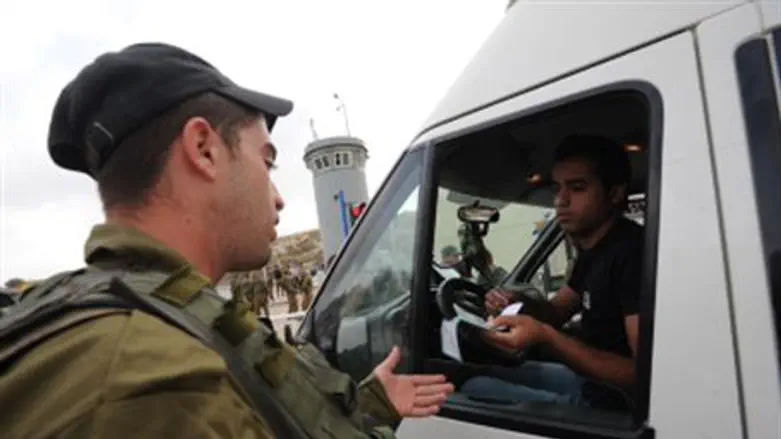 IDF checkpoint (file)
Israel news photo: Flash 90
Israel has arrested the Speaker of the Palestinian Authority's parliament, the Palestinian Legislative Council, who is also a senior member of the Hamas terrorist organization.
Aziz al-Dweik was detained Tuesday with two other PA legislators, according to the Chinese Xinhua news agency.
He was stopped by IDF soldiers at a checkpoint while trying to cross into Israel from Judea and Samaria.
This is not the first time that al-Dweik has been arrested by Israel. He was first detained soon after IDF soldier Gilad Shalit was taken hostage by Hamas terrorists on June 25, 2006.
At present, Israel allegedly is holding 13 Hamas lawmakers, according to the news agency.
Shalit is still being held hostage in Gaza, and his whereabouts and condition remain unknown. Hamas is demanding the release of at least 1,000 PA Arab prisoners in exchange for the soldier, including numerous terrorist murderers. 
At least four PLC legislative members of Hamas have been expelled from Jerusalem and have had their identification cards -- issued to Arab residents of eastern Jerusalem -- revoked for breach of loyalty to the State of Israel. The four appealed to the Supreme Court of Israel -- which they do not recognize and which they despise -- in order to attempt to win back their right to stay in Israel.