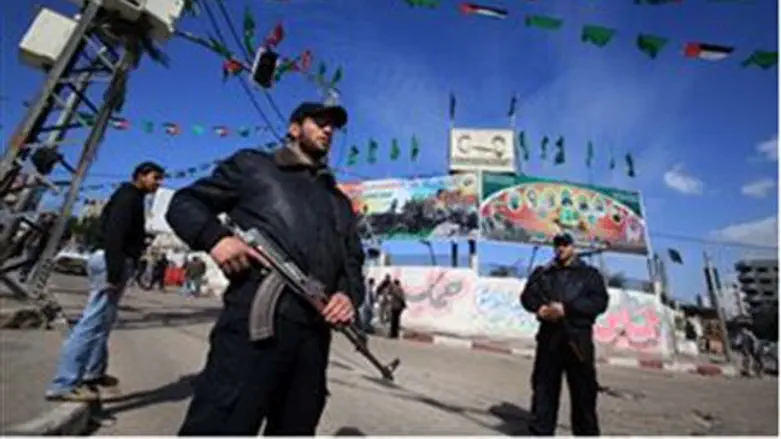 Hamas in Gaza
Israel news photo: Flash 90
A military court in Gaza City has sentenced a Palestinian Authority Arab resident of Rafiah to death by hanging after convicting him of "spying in favor of an enemy state." The identity of the enemy state was not revealed.
The man, 26-year-old Fadel Msallam Shallouf, was sentenced to death Tuesday for having violated the Palestinian Revolutionary Penal Code of 1979 of the Palestine Liberation Organization.
Shallouf was kidnapped on January 10, 2010 by terrorists from the Popular Resistance Committees (PRC), according to the Palestinian Centre for Human Rights (PCHR), who said the group handed him over to Gaza's Internal Security Service a week later.
The organization noted in a news release that Tuesday's death sentence was the fourth to be handed down in Hamas-ruled Gaza so far since January of this year. Moreover, the Palestinian Authority itself has issued 116 death sentences since its own establishment in 1994, including 23 that were handed down in Judea and Samaria. Of those, 19 were actually carried out – included one on May 4, 2011. Last year, the Hamas de facto government in Gaza executed five death sentences.
The PCHR called for an immediate moratorium on the use of the death penalty, and on PA Chairman Mahmoud Abbas "not to ratify such cruel and inhuman punishment." The group added that although its stand did "not reflect a tolerance for those convicted of serious crimes," it was a 'call for utilizing deterrent penalties that maintain our humanity."